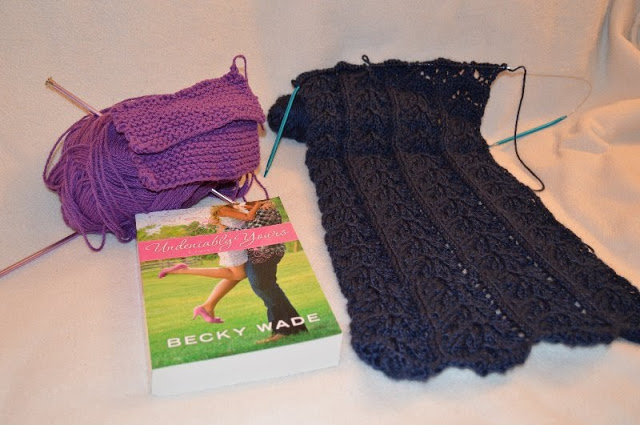 I am still working on the shawl, and probably will be until Christmas when I hope for it to be finished! I decided to take a quick break this week on it to start knitting up some little bar soap holders. We use bar soap at our house, but it gets so slimy if you don't put it on something! I tend to have extra cotton yarn around and like to knit up small rectangles to put in the bathrooms and kitchen to keep the soap on. Plus, I can have a little bit more color in my house, which I love!
I also have been thinking a lot about the holiday knitting that I need to start planning and working on. I haven't gotten very far at all. It is hard to think about the holidays when it is the middle of summer (although a couple days ago it felt like fall!). However, I know that if I don't start thinking and planning now, I will be kicking myself come December when I feel like I have no time left to complete all that I want.
My book this week is Undeniably Yours by Becky Wade. It is about a woman whose father dies suddenly. She is then left to tend to his pride an joy, a thoroughbred racehorse farm, and wants nothing to do with it. She gives the manager 6 months to close up the farm. Unfortunately for her, the manager has no plans to give up his dream job. So far so good!
Linking up with Nicole, Tami, and Ginny. Can't wait to see what everyone else is working on!