After Christmas, I felt like I needed a break from knitting. I instead went full speed ahead and decided on so many goals for the year. But, now I am back to knitting. This time for myself. I had such a fun time knitting the envelopes for everyone else for Christmas, and I decided that I wanted one for myself, so I knit one up, used my favorite button (note to self, buy more cool buttons), and was happy with the results. I used some purple alpaca yarn that I had in my stash. It is so soft, I kind of want to put stuffing in the envelope and use it as a very small pillow 🙂 In this picture there is a clue to my post tomorrow which is a giveaway!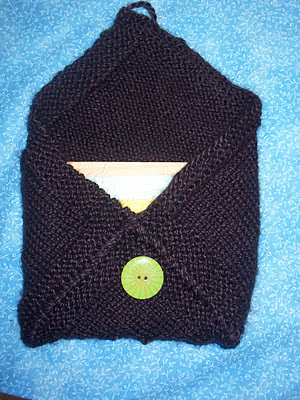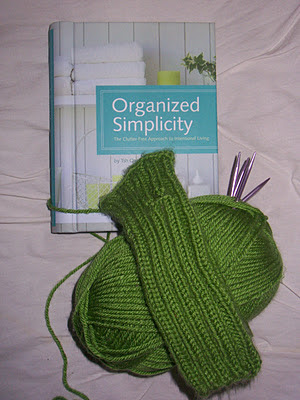 This week I am also trying to knit myself some fingerless gloves. It has gotten quite cold in Maine. It took a little while, but winter is in full force here. It was evident by the wonderful 4 degree weather we had this past weekend. I'm looking for that lovely mild winter we were having. You know, the one with temps in the 40's and sometimes hitting 50…and no snow. Yeah, that was nice 🙂 But, I digress. I have knit one fingerless glove, and will be casting on the second today…hopefully.
I am reading a few books this week. Organized Simplicity is at the top of the list. It is currently FREE for the Kindle or Nook editions. I own this book in print, but for free I jumped right over to get it for my nook as well! I'm not sure how long this will last, so you better click over fast! This book has really been inspirational for me. It is all about finding your simple life. It isn't about minimalism. It is about finding joy in what you surround yourself with. It speaks to writing a mission statement for your family, and then using it to make decisions. And the second half of the book is my favorite…the decluttering/organizing section. Tsh takes you through 10 days of intense cleaning. Unfortunately, I don't have 10 days to dedicate entirely to this, so we end up taking it several days at a time. Luckily, my life is mostly chaos, so having everything all over the place isn't too bad 🙂
I just recently took out Off the Grid from the library. I have really just started it, but it has been talking about why and how the electric grid and the water grid have come to be in the US. So far it is pretty interesting. I never realized that there were people that didn't want the electric grid. Or the extent the companies would go to in order to control the market. And that GE's light bulb industry was the only part of the company that continued to grow and have profits during the Great Depression. I guess once you have electric light, it is hard to go back to candles. I am looking forward to continuing this book though. He travels across the US talking to all sorts of different people who live off the grid, from survivalists, to hippies, to ordinary families.
The other book that I am about to start is The Happiness Project which I heard about last year, but never got around to reading more than the introduction. Hopefully I can plow through that today, it doesn't look to be long.
I am linking to the Mommy Club Wednesday today! As well as the lovely yarn along! Make sure you come back tomorrow to enter the giveaway!