Remember last week, when I had planned to knit the second fingerless glove? Well, I didn't end up casting on until Sunday, so that is what I am knitting right now. I hope to start a cowl for Matt this week too, in a lovely charcoal alpaca yarn I have. He claims that he is freezing in his office, and he is probably telling the truth 🙂 I would like to make him some fingerless gloves too, out of the same yarn. It can be his indoor winter garb 🙂 We do keep our heat quiet low…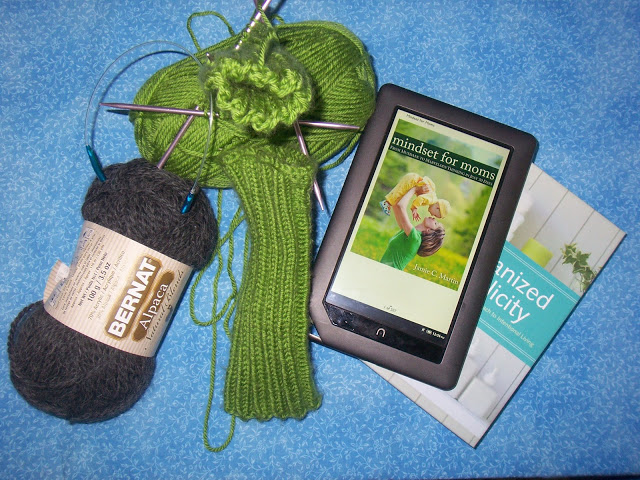 This week I am still reading Organized Simplicity. The first time around, I read it in a day. This time I am trying to really work through it all. Look for a post tomorrow about the start of my journey through this book!
The other book I am reading is Mindset for Moms by Jamie Martin, of Steady Mom. So far it is great! The chapters are short, which is nice when you feel like you are being pulled in 100 different directions. I am naturally a pessimist. And I think this book will be perfect for me. Change my thinking? What a novel idea! I definitely encourage any mama struggling out there to get a copy!
What is waiting in the wings for me to read is the final book in the The Hunger Games trilogy. May have to put down all of my self help books to lose myself in some fiction!
Don't forget to enter the giveaway for the $20 off coupon code for Dayspring here. I will be closing comments tonight and posting the winner in the morning!
And of course I am linking up at the wonderful yarn along!