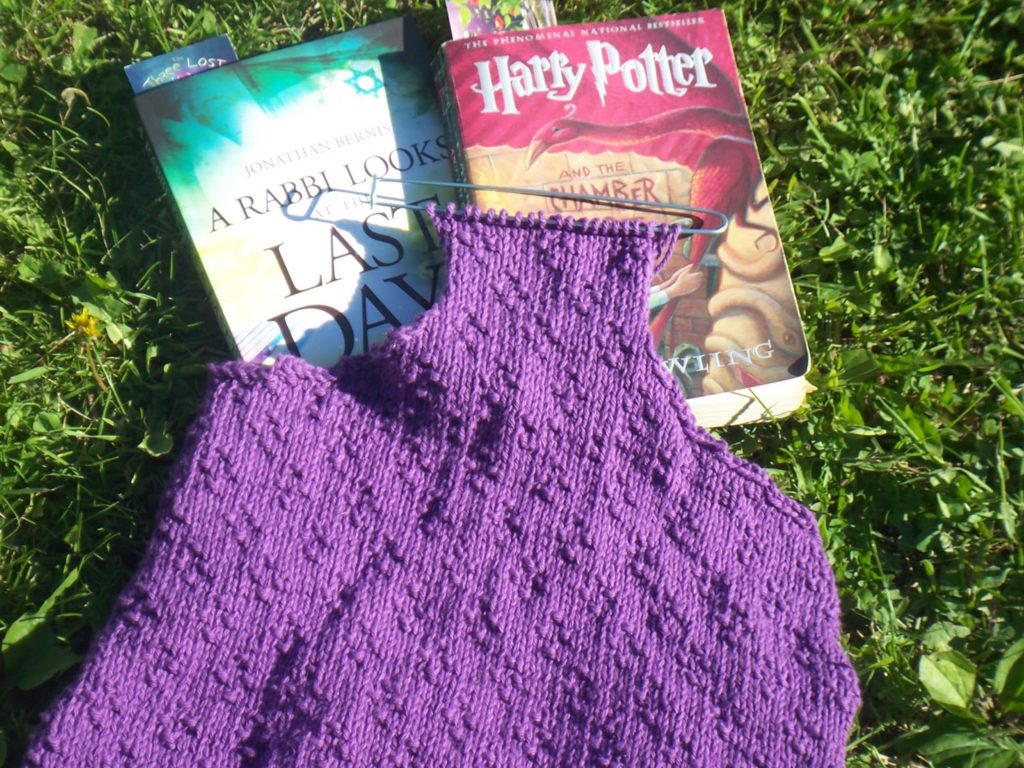 Phew! I finally finished the back of the tank that I am knitting right now. I wasn't sure I would ever make progress, but I finally did. I am in the groove now, and ready to cast on for the front. Once the front is done I just need to get the straps figured out – note to self google I-cord – and then I should be good to finish up this project. It really is a fun knit, but like I keep saying, the weather is drawing me out to walk around the garden.
I think when the garden first goes in I am so excited and just want to see all the progress. Not to mention it is a lot easier to weed in those early days. So I will walk around, look at my seedlings, make sure no squash bugs or cucumber beetles are attacking them yet, and pull a weed here and there. I guess that is the definition of puttering!
As far as reading, I started a new book called A Rabbi Looks at the Last Days. Is it the most uplifting book? Probably not so much, however, I really enjoy this type of book, and getting it from a Rabbi's perspective is doubly appealing.
I am also reading Harry Potter and the Chamber of Secrets with the kids. It has been a few years since I have read this book, and I am enjoying it as much as I always did. Emma is really enjoying it as well. I'm not sure how far in the series we will get before it gets a little too intense for her, but for now, she is really enjoying it, and I am enjoying lounging and reading one of my favorite series to my daughter. Being a mama is very cool 🙂
Linking up with Ginny, Nicole, and Tami. Can't wait to see what everyone else is crafting and reading today!