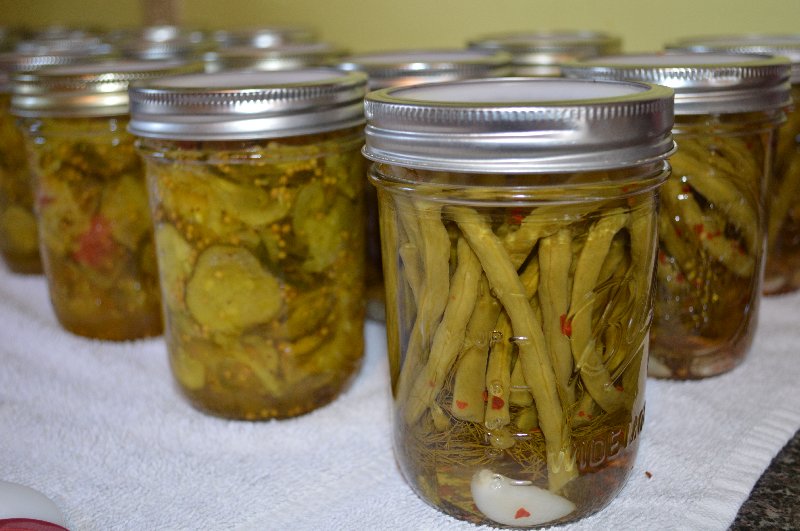 Most people in Maine would probably say that canning starts with rhubarb and strawberries. In fact, I was that person back in June as well. Unfortunately, that didn't happen for me. I was able to freeze a lot of rhubarb, which I plan to make into something…at some point…but the strawberries were missed entirely this year.
Instead, my canning started with pickles and dilly beans. This is my first year making pickles. More specifically, bread and butter pickles. I never actually liked sweet pickles growing up, always preferring dill pickles, or fermented pickles. But a few years ago, we got a couple jars in our winter CSA. I decided to try them, and what do you know, I loved them and ate the entire jar! Having them on hand wasn't a priority for me until I realized that my kids developed a taste for these pickles. The ones from the store just don't compare!
I have made dilly beans before. One time. And they were mushy. I was not impressed. I couldn't figure out what I was doing wrong. I followed the recipe to a T! This year I am trying a different recipe. One that I think will change things dramatically. Why? Because it didn't call for me to blanch the beans first. I think that one little change will give me the crisp dilly beans that my children love…at least that is the hope.
This year I also had my very first broken jar. I think I had a pretty good record, 5 years of canning with no broken jars! And it wasn't an exploding jar, so I was thankful about that. When I put the dilly beans into the canner, I heard a little pop. I thought nothing of it until I lifted the lid to see if the water was indeed boiling and instead of 7 pint jars sitting nicely in the canner, there was a jar floating. And of course when I tried to remove the jar…all of the contents ended up in the canner. I scooped out as much as I could though, and I think for the most part the jars sealed ok. We shall see how they do!
What are you preserving right now? Have you missed any "seasons" for fruit/veggies like I have?


Linking up at Clever Chicks, Homestead Barn Hop, Homemade Mondays