Is Black Friday a tradition in your home? It is in mine. Not one that we always keep to, but one that
seems to always be on our minds around Thanksgiving – which is funny since
Thanksgiving is all about being thankful for what we have, and Black Friday
seems to be about acquiring more stuff.
I think over the past few years, Black Friday has gotten
huge. It now has a Cyber Monday, a Small
Business Saturday, in fact, I have been getting e-mails and flyers in the mail
about Black Friday deals that are running all of November.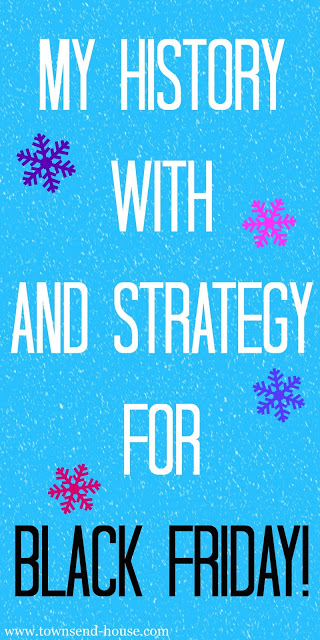 When I was in college that was the first time Black Friday
was big to me. I heard that the Maine
Mall was going to be opening at midnight.
It was completely unheard of at that time (I might be showing my age a
bit here!). Some of the stores would be
open, and there would be amazing sales.
We already had a tradition of going to LL Bean on
Thanksgiving, to walk off most of the food we had eaten and make room for
pie. So going to the mall wasn't that
far off for us.
I convinced my brother and my mom to drive down to Portland
at 11pm. We got there, and there was a
line already around the mall. It was
freezing. We all had coffee (and at the
time, only one of us actually drank coffee – my mom), and were ready to see
what this Black Friday thing was all about.
Let me tell you, it was chaos!
We had no idea what we were getting ourselves into. We walked around that morning, going to the
stores that were open, making many trips to Starbucks, and just generally
walking around.
It wasn't about getting a good deal; it wasn't about buying
a bunch of stuff. It actually was about
my family spending time together, walking around in the craziness, laughing
when we saw people running for displays.
Yes, we bought a few things, but it wasn't the primary draw. We wanted an adventure, and we got one!
As the years have gone on, we have seen our Black Friday
change a bit. The last time that we went
out super early was when Emma was just six months old. After that, there were more children added to
the mix, and sleep became the priority, not getting out in the morning.
This year is the first year that I feel that pull to go back
out in the craziness. I'm not sure it
will be at midnight, or even 8am, but I can definitely see myself getting out
to people watch and see what kind of deals might be available.
One thing that hasn't changed is my desire to get the paper
on Thanksgiving morning. I go to the
little gas station near my house first thing in the morning to get the paper
with all of those ads. Often I don't see
anything of interest, but once in a while I will find something that I want to
buy for someone.
What is my plan for this year? Well, I will get the paper on Thanksgiving
morning, I will sit down with my coffee after we get the turkey in the oven and
look through the paper. I will clip the
coupons that are important to me – Michael's, AC Moore, JoAnn Fabrics – and
then I will enjoy my Thanksgiving meal!
I haven't decided if I will go out, I haven't decided if I
want to drag my kids out for that. More
than likely, my husband will stay home with the kids, and I will make a few
quick runs to the stores where I know I need to get some things, and then be
home in time to start decorating our Christmas tree.
This obviously isn't a real Black Friday strategy.
My real Black Friday strategy is to soak up the extra time I
have with my family all together. To
watch my niece and nephew play with my kids, to visit with my brother and
sister-in-law, to play Christmas music and decorate our tree, and eat more
Thanksgiving leftovers; that is my real strategy. I'm not chasing a deal, or trying to find the
hottest present this year. I may find
something I want to get, but I'm not going to be fighting anyone to get it.
What do you do on
Black Friday? Do you go out in the
madness, or do you skip it?