I can't believe that today marks one year of writing in this space. I have been blogging since 2000, and each blog that I have had has meant something different to me. My first blog was back in college, after one of my apartment mates showed me her blog. I think that was way in the beginning of blogging. It was mainly a place for me to write funny stories about the dynamic in our apartment…I wish I had never deleted that blog…there were some seriously funny stories.
I think that blogging is a great outlet. Especially since I am a stay at home crunchy mama with strange views on just about everything 🙂 I have found that it is an excellent community. For the most part, my experiences here have been very positive! I love that sense of encouragement that other bloggers seem to give to each other. It has helped me a lot over the past year. To know that I have some place to put my thoughts down, and get encouragement from others, and hopefully give a little encouragement as well!
I am looking forward to continuing to grow this blog, and hopefully getting to know more of my bloggy friends in the future! And to celebrate that, I have a special giveaway! It includes a wonderful greeting card organizer, and a pack of mixed birthday cards, both from DaySpring. I'm sure I will have a few other goodies in there as well! So please, come out of the woodwork and leave me a comment if you would like to be entered for this giveaway! And for an extra entry, follow my blog 🙂 Or if you already follow, just leave a comment that you already follow.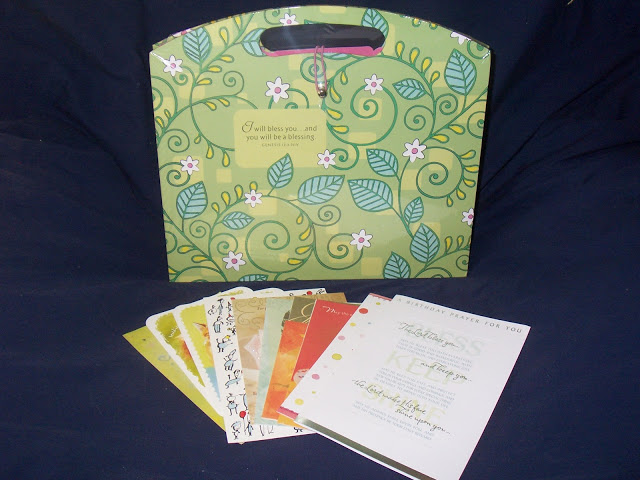 *This giveaway is not sponsored by DaySpring, I just happen to have a lot of their products and enjoy putting packages together 🙂