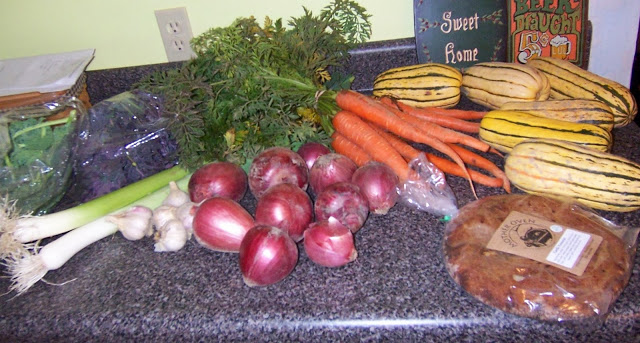 Several years ago when we started our journey to more local
and seasonal eating, I was able to find a winter CSA share. I think a lot of areas now have summer CSAs,
but I think winter CSAs are not as common.
It is an amazing horse powered farm that gives us root vegetables,
canned and frozen vegetables, and other preserved goodies (tomatillo salsa? Yes
please!).
This year we decided not to do the winter CSA, not because
we don't love it, but just trying to save a bit of money. I love the CSA model, but sometimes it is
difficult to come up with a large sum of money at the beginning of a
season. So we are going to back off this
year from the CSA.
I think that if it had been a couple years ago, I may not
have been able to continue eating locally past what we preserved and stored for
ourselves. Luckily, that is not the case
for us anymore. Over the past year we
have had a small local buying club sprout up in town. The purpose of the buying club is to
eventually become a store front downtown, a local market that offers an
alternative to the grocery store.
Right now they have bi-weekly orders and pickups. I really love the format though. There is a website that we can go to and look
at all the products available for this buying cycle. Then we are able to put it all in our online
basket. When the order cycle closes,
they take all the baskets of everyone who has ordered, and place the main
order.
We have also seen a new local food market open up in our
downtown area. It is made up of local
farmers. They drop off their goods to
the market, and a manager sets everything out.
It is pretty much like a grocery store, but on a much smaller scale, and
with all local foods. They also sell
locally made crafts
I love to see how the local food economy has developed in my
area over the past few years. It started
out with me searching for a farmers' market within 30 minutes of my home, and
now there are several CSA farms available, both summer and winter seasons; the
year round farmers' market, and the local food buying club. We also have a couple of markets that carry
local food as well; a fish market and a meat market. Overall, I am really pleased with the amount
of choices available, and it seems like there is an obvious demand – at least
where I live – for locally produced food.