It is almost the end of February, and I haven't finished one knit project this month as of yet. And I haven't made any progress on the two scarves I am knitting either. Well, some progress, but not enough for it to make much of a difference. That means that I am going to have to put some of my reading aside this week to finish something before the end of the month, otherwise, my knitting goal for February will not be met, and it wasn't even an ambitious goal!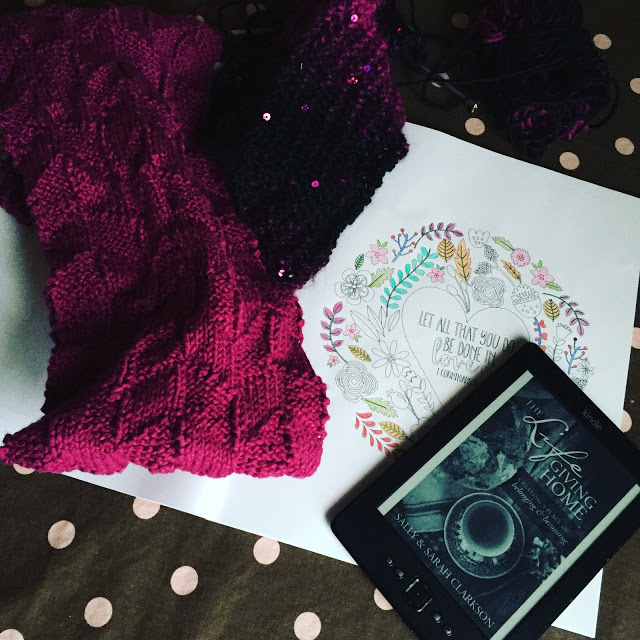 What I have been doing if I am not knitting? Well, you can check out my Day in the Life video that I posted yesterday, and that can give you an idea!


I have been spending a lot of time reading. And I haven't quite figured out how to hold my knitting and read a book at the same time.


I finished up the Perseid Collapse series. I flew through those 4 books pretty quickly. I wanted to make sure that the post-apocalyptic society would turn out OK.


Once that series was done, I started reading The Lifegiving Home by Sally and Sarah Clarkson. I saw that a lot of you were reading that last week, and I was anxious to start it. I really enjoyed the book! I usually do enjoy Sally Clarkson's books. They seem to speak to my mama heart. I really enjoyed how they went through every month of the year, and the traditions and activities that they do during that month. I also had the overwhelming desire to get rid of technology in my home again – I think that happens to me every year.


Technology is such a struggle for me. We homeschool, and a lot of information and support is found online, the kids don't watch exorbitant amounts of television, but, in the winter especially, we turn to PBS Kids and YouTube videos to round out some of our learning. The kids have kindles and will play Minecraft as much as possible. They absolutely love making videos, and in turn have the desire to sit at the computer and edit them with Matt.


Then on the other hand, I want to turn it all off and just knit and read books and play outside. I guess it is all about balance!


What are you working on this week? What part does technology play in your home?