I had planned to have an amazing post ready for today. You know, the one where my precious Emma actually models the sweater dress I have been knitting. I was all ready to finish it this weekend. My hubby was going to be home, we were going to have a relaxing weekend with not a lot of extra work going on. What happened? Well, I got some sort of a pinched nerve or something in my neck/back, and I have had the lovely experience of not being able to move much over the past several days…since Thursday of last week. It has been awesome let me tell you. I am finally able to raise my arms up (which is helpful when you have a 19 month old that needs diaper changes, and a 3.5 year old that needs to be lifted over the gate to use the potty).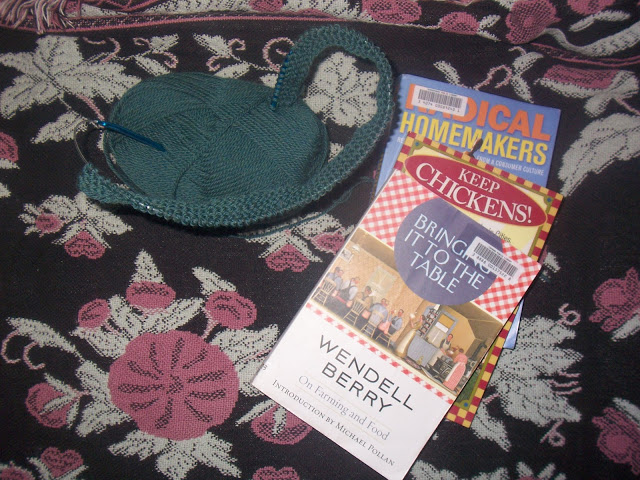 My neck and upper back are still in a lot of pain, but being able to move my arms has made a world of difference. I probably should have called the dr. But, really, what are they going to do for me? Most likely not much. I thought about going to the Osteopath, but didn't really want to pay a co-pay to go to my dr. just to have her refer me to the osteopath who would then require the specialist co-pay. Gotta love health care in America.
This was the long winded explanation as to why I have only gotten about an inch done on the back of Emma's dress this week. It isn't a difficult pattern, but it is difficult when you can't lift your arms. While there has not been a lot of knitting, there has definitely been a lot of reading!
This week I finished up Radical Homemakers. I loved this book. I will definitely be adding it to my library. What I liked most about this book was the justification almost of removing yourself from the formal economy. To be able to step back from the day to day grind of a desk job, and do what you love to support your family. I think a lot of times, we need someone to give us that permission to be at home, to knit sweaters and socks for our family, to make our meals from scratch, to go to thrift stores instead of the mall to buy clothes, or even to sew our own clothes. It isn't always accepted, but it should be. Just because I don't make cash by being at home, doesn't mean that I am not contributing to society. A very awesome book that everyone should read.
I also was able to finish The Art of Simple Food and Feeding the Whole Family. OK, technically they are both cookbooks, but they had a lot of good information in them as well. It was nice to see the combinations of flavors in the recipes. I generally gravitate towards tomato based mexican bean dishes, which all seem to have the same flavors. I started branching out with curries, but to see other flavors is definitely awesome. Also, to see the vegetables of the season take center stage, without a lot of seasonings, just letting the vegetables shine on their own. I think that we have gotten away from that in the US quite a bit. Our taste buds are numb to the wonderful natural flavors of foods now, instead craving the artificial flavors of processed food like substances. I am trying to let the natural flavors shine more, and let the seasonings take a back seat. I'm not saying get rid of salt, but maybe take a step back a bit and let your taste buds become what they used to be.
Yesterday I picked up a new book at the library. Bringing It to the Table: On Farming and Food by Wendell Berry. I have never read any books by him, but I have heard great things. I also haven't started the book yet, but it looks to be promising! I will let you know of course 🙂 And the last book that I have been reading is Keep Chickens! Tending Small Flocks in Cities, Suburbs, and Other Small Spaces, which is a great book if you are thinking about getting backyard chickens. You can read more about our journey in this post.
Today I am linking up at Ginny's yarn along. One of the best parts of my week! Thank you to all the wonderful people who comment! It certainly makes me smile to see my inbox filled with encouraging comments 🙂