It seems like everyone wants to go in a different direction
these days. We are all trying to make
changes to our lives. Everyone wants a
fresh start. But, it seems to go beyond
that.
We want to make huge shifts in our culture as a whole.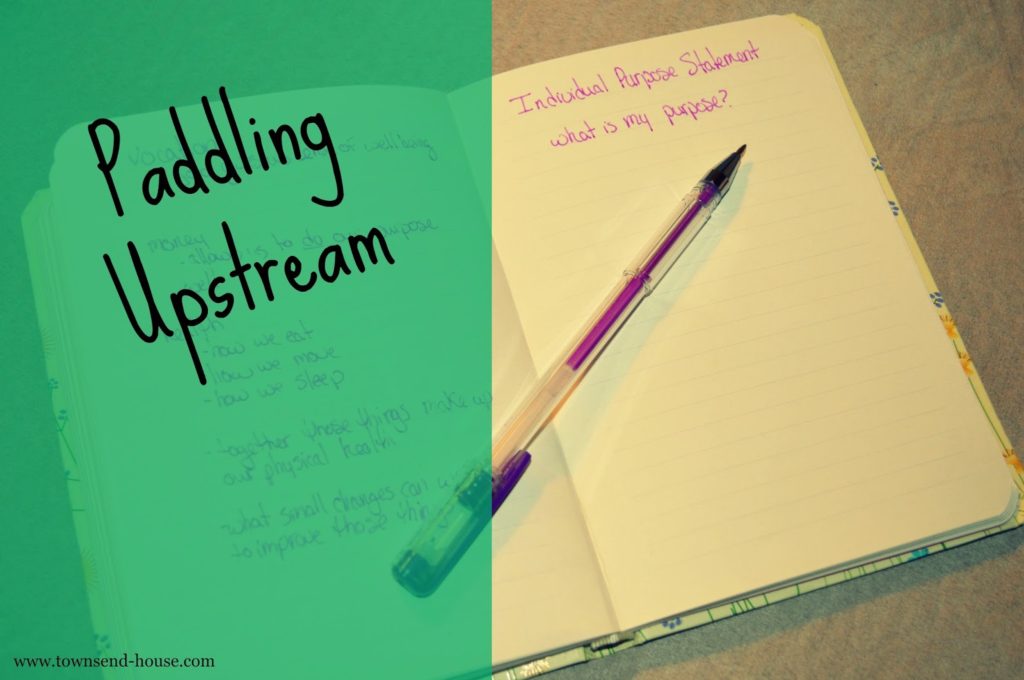 What that means is different for everyone. We want to be better stewards of God's
creation, realizing that our resources are finite and we want to live simply so others can simply live. We want to acquire less stuff so that we can
have more space in our minds and our lives to do what is important to us,
whether it be spending more time with our families or doing mission work or
traveling. We see the drain that
technology can have on us, while it puts the entire world at our fingertips, it
can also suck all of the life from that world.
How do we figure out what our version of paddling upstream
is? An incredible amount of self-reflection and introspection is how.
I recently signed up for a new e-course by Tsh from The Art of Simple, Upstream,
which deals with all of this. I am four
sessions into the course, and it has been incredibly informative so far. Trying to figure out who you are as a person,
knowing yourself, and figuring out your purpose – it is all pretty heavy stuff,
but so enlightening as to why I am the way that I am.
My word of the year is intentional and I think this course
is setting me on the right track.
It seems like such a big thing, figuring out your life's
purpose, writing a purpose statement for you and your family, but it also is
necessary. How do you move in the right
direction if you aren't sure of the direction you should go?
Maybe I am the only one who struggles with priorities,
making sure I am doing what is important to me and my family, so if that is the
case, you can enjoy my personal journey!

One thing that I have been working on in this course is my personality type. Have you taken a Myers-Briggs test
before?
Last year was the first time I had taken a personality
test. In fact I took a bunch of
different versions. I always thought of a
personality test as something that wasn't entirely accurate for me. A lot of the questions I felt I could go
either way. Then I realized I wasn't
answering the questions honestly. Sure,
they could go either way, because there were ideals that I was thinking about
while answering the questions.
Once I stopped thinking about how I wanted to act in a situation, and instead answered how I truly do act, it was easier to
pinpoint who I am.
Hi, I'm Heather, and
I am an INFJ.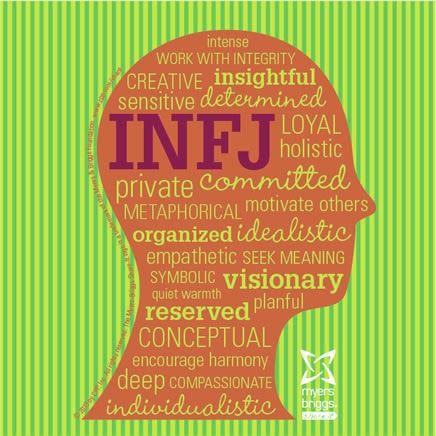 As I read through my personality type, I was able to nod my
head at so much of the description, realizing why I enter into different
situations the way that I do.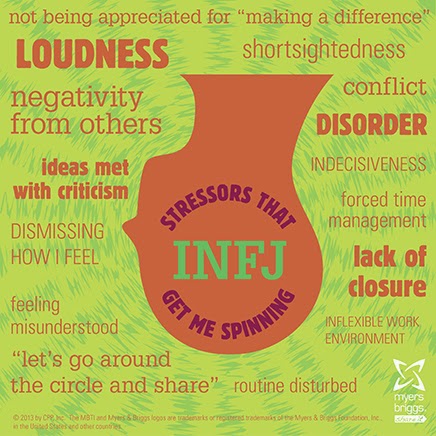 Once I was able to wrap my head around this incredibly
accurate description of myself, I was able to project it outward towards my
goals, what I want to do, the ways that I want to live, and what is important
to me.
I want to have less "stuff."
It takes up mental energy that I do not currently have (especially with
three littles to take care of!). I know
that being a good steward of God's creation, and what He has given to me and my
family is important. I want to give my
family healthy food that hasn't been tainted with GMO's or large amounts of
pesticides. Realizing how lucky we are
to have fresh, clean drinking water by just turning on the faucet has made me
think about all of those who do not have that.
I want to conserve the water that we do have, not wanting to be wasteful
of something that is so precious to so many.
I am still evaluating what my life's purpose is, and it is a
lot to think about, but it is encouraging to know that I am not alone in this
desire. There is an amazing group
already formed on Facebook of others who are taking this e-course. If you are interested in working through who
you are and moving towards your goals this year, I would recommend checking out
this e-course.
Have you thought about
what your life's purpose is? Do you know
your personality type? I would love to
hear it in the comments!