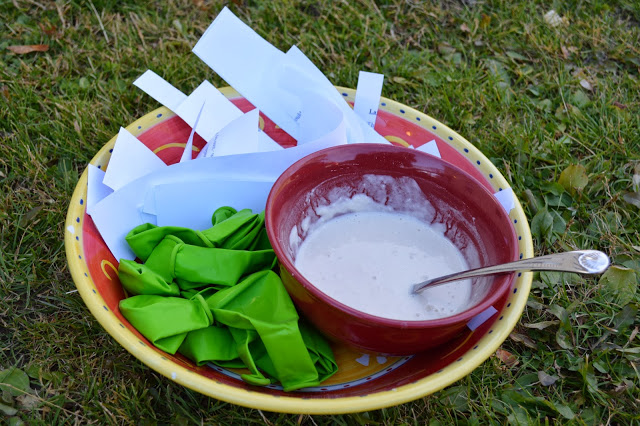 Ah Paper Mache; the incredibly messy craft that children
love. I haven't done a lot of Paper
Mache with the kids, actually I have not done it at all. Matt did suggest they do it one Saturday
afternoon, and I told him how to do it, and he did it – albeit we did not have
all the right supplies at the time, but he made it work!
Strips of newspaper or other paper
You will want to make a paste with the flour and water. I have read different things, but what seems
to work best for us is a thicker paste, about the thickness of pancake
batter. Then you will want to dip your
strips of newspaper into the paste, and then smooth them onto the balloon. You can also use cardboard for this, or any
other type of sculpture you may want to Paper Mache.
This would be the part the kids enjoy the most, dipping the
paper into the paste. Sure, you could be
a lot neater at this by using a paint brush, and a bit thinner paste. But, the kids really enjoy getting messy, and
I figure I might as well let them. It
keeps them occupied for longer J
Once you are done covering your balloon, you will want to
hang it up and let it dry. It can take a
long time to dry. Then when it is dry,
you can pop the balloon and paint away.
Another extremely messy activity for my kids, but one they absolutely
love.