Last week I started talking about planning your summer garden. I think all that talk about summer made mother nature smile! It has been really warm here this past week (40's in January in my neck of the woods is incredibly warm!), and it looks like it will continue for a few days.
I concentrated on planning for your seed purchase in my last post. A large part of that seed purchase is to consider what your family will eat. I am lucky in the fact that my kids love veggies from the garden, so we grow a variety of foods to eat. What I have trouble with is trying to figure out how to best utilize the space that I have to grow as much as humanly possible.
I am constantly trying to figure out how much of each vegetable my family will eat. It is a goal of mine (and has been for a couple of years now) to grow what we would eat for one season. I haven't come close yet. It seems like each year I either don't plant enough, or I plant too much, I can never seem to plant the right amount. Why is that?
I think part of the problem is I underestimate what my kids will want. Last year I didn't can any dilly beans. I knew that my kids liked them, but I also knew that we would be getting dilly beans on occasion from our winter pantry CSA. I felt like there was no need! Unfortunately, I was completely wrong. Jack LOVES dilly beans. He chooses them for a snack almost as much as fruit. So this year, I plan to plant a lot of green beans so that I can make dilly beans.
I figure I am still learning though, so I am giving myself grace. But, considering I want to have a more subsistence lifestyle, I think it would be good if I could get my act together!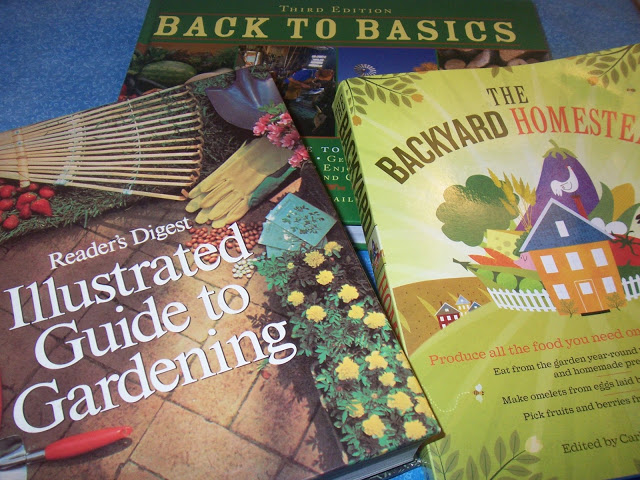 Some of the resources that I am utilizing this year are:
The Backyard Homestead: Produce all the food you need on just a quarter acre!
I love this book. It is a little bit like a fairy tale to think that you could live in a community where all of the laws allow all of these animals/gardens etc. But, it is something that I strive for in our community. We are allowed chickens currently, and right now they are working on a small farm animal ordinance. This means I could get a goat! – I haven't mentioned it to Matt yet. What I really like about this book is the hope that it gives. If I continue to work each year, perhaps we will get to a point where we can produce a majority of our food!
This book is great for people that are gardening in small spaces. I talked a little bit last week about making sure you have the spacing you need when planning what you will plant. I use the spacing suggestions in this book. It makes a lot of sense to me, and planting in such a small space as I do, I want to make the best use of every square inch.
Reader's Digest Illustrated Guide to Gardening
This is a book that I took from my mom. It has so much information in it. I don't know if they print these Reader's Digest books anymore, but I also have the Complete Guide to Needlework, which obviously has nothing to do with gardening, but has so much great information I figured I would mention it! These Reader's Digest books are the best how to books I have found. They seem to have the most detailed steps to follow, which is helpful when you are trying to teach yourself.
Back to Basics: A Complete Guide to Traditional Skills
This book is not only about gardening. I love to learn how people used to do things, before we had so many "advances." I see a lower energy future, so I want to make sure that I know enough about these skills that I can pass onto my kids. However, there is also a lot of great information for gardening and then also putting up the food for the winter.
The final resource that I use is my mom. She always had a garden when I was growing up, and I think I took it for granted. I really had no desire to learn any of it when I was younger, and I am kicking myself now. Whenever I am talking about gardening with my mom, she always seems to come up with something related to what I am saying, and it always makes me thing "huh, why didn't I know that?" If you have an older relative, or friend, or neighbor; ask them about gardening. You would be surprised with all the knowledge they may have.
What are your favorite resources for garden planning? Do you wing it, or do you plan down to each square inch?


Linking up at Clever Chicks, the Barn Hop, Healthy 2day Wednesday, Your Green Resource