This post contains affiliate links. If you make a purchase after clicking on one of these links I will receive a small commission at no extra cost to you. Thank you for supporting Townsend House!
I received my POPSUGAR Must Have box early this
month! That means that I was able to get
my act together and get an unboxing video done.
But, I also wanted to share about it on my blog.
Over the past year I have been trying to be better about
self-care, and part of that is to really get into a better skin care
routine. I thought I could combine the
two by getting a couple subscription boxes.
POPSUGAR is definitely one of my favorites.
If you haven't heard of this subscription box, it is a
monthly subscription box that is truly a lifestyle box, containing items for
beauty, home, treats, and fashion.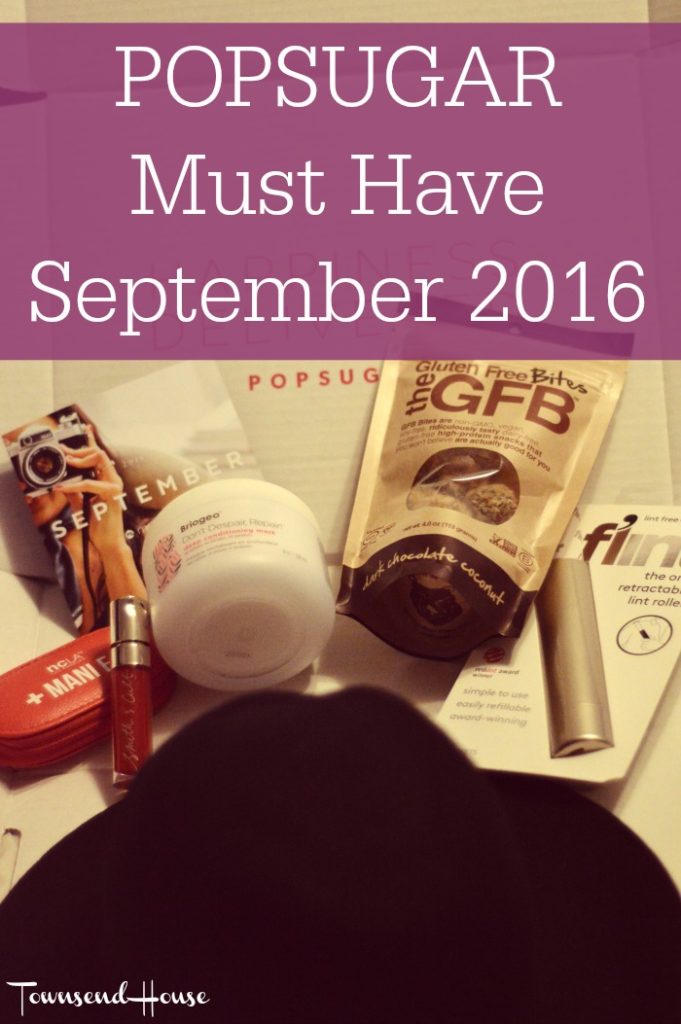 Last month I absolutely loved the box, but it came so late
in the month I didn't get an unboxing done.
So when my September box came last week, I was super excited to dig
right into it!
These vegan,
gluten-free bites are made without GMOs or dairy, so you can indulge your
chocolate craving without feeling guilty.
Stick them in your purse for sweet, high-protein treats on the go!
Nothing says super
chic quite like a wide-brimmed hat and oversize sunglasses. Pair this headwear with your favorite Fall
outfit for an effortlessly chic look that screams "model off duty."
This sleek platinum
lint roller will never let you down, conveniently sized for fitting in your
purse and refillable so that you never have to risk unsightly mess. Flint can keep up with your day and look as
good as you do!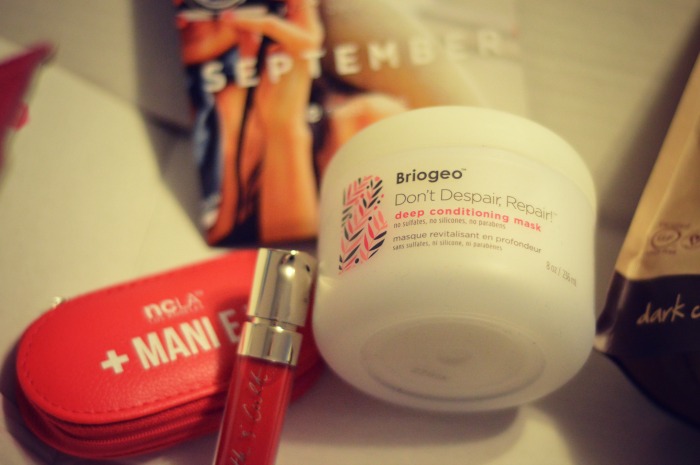 Your hair puts up with
a lot – treat it to a spa day with this restorative mask, which will reduce
breakage and restore natural vibrancy on even the most over-processed
locks! It works in minutes, and your
newly hydrated and lustrous hair will appreciate the refresh.
With this handy tool
kit, you're equipped with everything you need for a chic manicure all in a
portable, purse-ready pack – so when you're transitioning into the hustle and
bustle of Fall, one thing you'll never need to worry about is your nails!
Pair your new hat with
a bold red lip – the gold microshimmer in this lippie adds a cheeky touch to an
otherwise elegant beauty bag staple. The
ingredients in this paraben- and gluten-free formula help extend the wear,
whether it's worn over a lipstick or by itself.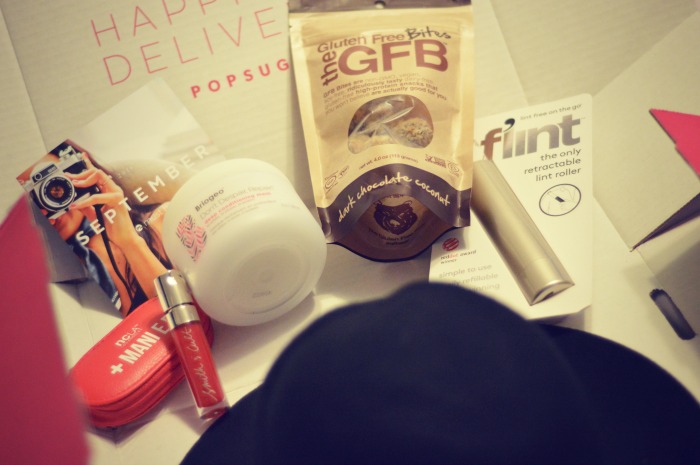 I was a little underwhelmed this month – especially after
LOVING last month's box but, it was still a nice surprise. I'm not sure if I am going to be able to
handle the hat, or if I will be brave enough to try that red lippie. We did all share those gluten free bites as
an afternoon snack, and my kids loved them (I did as well!).
Do you subscribe to
POPSUGAR Must Have? Do you have another
subscription box that you really love?