This post contains affiliate links, meaning that if you make a purchase through one of my links I will receive a small commission at no extra cost to you. Thank you for supporting Townsend House!
Before I had kids, I loved to pamper myself. I worked at the Prudential Building in Boston
and walked through the Copley Mall every day.
I loved to go to Sephora on my breaks, I loved getting new beauty products. Then I had kids, and I stopped, although I
probably could use a bit more pampering since I have kids! It helped that there wasn't a Sephora
anywhere close by.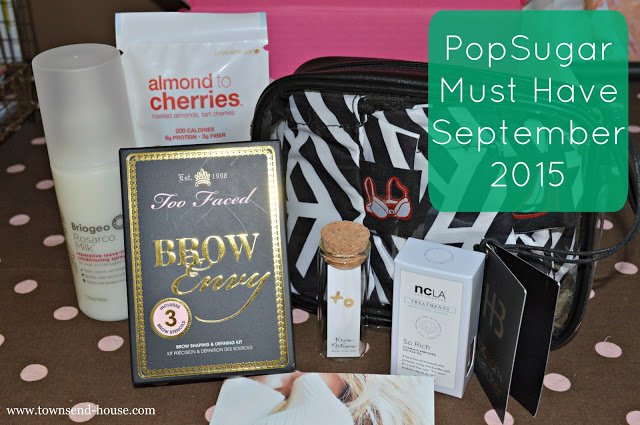 Now, I am trying to get back into more of a beauty routine. But, I am so out of touch now, that I
definitely need help. I thought a
subscription box would be a perfect fit for me, giving me products I could try
out and see if I like them.
Of course I am not a beauty blogger, and am not sure I would
only want beauty products delivered to me in a monthly subscription, so when I
heard about the POPSUGAR Must Have box, I was really excited.
Have you heard of POPSUGAR Must Have subscription
boxes? POPSUGAR describes itself as:
The best in fashion,
beauty, home, fitness, food, and more delivered straight to your door.
This subscription box costs $39.95 per month and includes full
size products that are valued way more than your subscription cost. You can pay for more months up front and get
a few dollars off the box.
I decided to do a bit of an unboxing on my YouTube channel,
and wanted to share some more of the specifics here for those who may be interested.
What inspired us for
September? Travel, Refresh, Fashion Fix,
Beauty Recovery, To-Go Snacks, XOXO.
The first item is the Hudson + Bleecker Labyrinth Onyx Travel Trio. This is a really cute makeup bag that also
contains two drawstring bags for shoes and intimates. I really like the print! Very cute. – Suggested Retail – $42
Next Nourish Snacks Almond to Cherries. My kids and I all split this snack,
and it was delicious! We love nuts and
dried fruit, I think it makes a perfect snack, and this didn't disappoint. I don't often find dried cherries at the
grocery store, I typically have to go to the health food store, and I love
them. – Suggested Retail – $2
Too Faced Cosmetics Brow Envy Brow Shaping & Defining Kit. I
said in my video, and I will say it again here, I am not a beauty person! I am not someone who spends a lot of time on
my hair and makeup. I am a mom with
three little ones, one of whom enjoys pulling hair, so I try to keep it
relatively simple. Even when I was going
to Sephora all the time, I wasn't using a ton of makeup. I am much more about subtle. However, I also realize that I am getting
older and want to take more time to do makeup etc. I have never done anything beyond getting my
eyebrows waxed, but this looks really cool!
It has stencils that you can use for different brow shapes
as well as setting wax and some little tools to use. I am looking forward to trying this out, and
know that with the holidays coming, there will be plenty of opportunity for me
to get dressed up. My favorite
part? The instruction booklet – I am
going to need it! Suggested Retail – $39
Briogeo Rosarco Milk Reparative Leave-In Conditioning Spray. This I was really excited about. My hair gets really dry in the winter, and so
does Emma's. No matter what I do, there
is so much static! I think that this
will definitely help to keep my hair more manageable. I love that it is made with argan, rose hip,
and coconut oils. It smells
amazing! Suggested Retail – $20
Kris Nations "XO" Stud Earrings.
These are really cute earrings.
They are cut from recycled brass and plated with 14k gold. Super cute and Emma wants them. Of course she doesn't have her ears pierced,
so she wanted me to wear them immediately.
I like that they are studs – less likely to be ripped from my ears by
Miss Lucy Lu! Suggested Retail – $35
Last in the box is NCLA So Rich Vitamin-E Enriched Cuticle Oil. I was really excited to see this in the box
because I had just thought to myself the day before that I needed to get some
sort of cuticle oil. I am constantly
washing my hands (baby in diapers, people!) and as the air gets drier, my hands
suffer. I am super excited to use
this! Suggested Retail – $18
As you can see, the total suggested retail of the box is $156! I think that is a pretty
good subscription box right there! I
love that the products are full size products, not samples, and I love the
variety. Like I said before, I'm not
sure a straight up beauty box would work for me, but something that contains a
bunch of lifestyle favorites definitely appeals to me!
If you are interested, I have two, $10 off your first box
coupon codes. I will give them to the
first two people who e-mail me at hello@townsend-house.com
Do you have any box subscriptions?
What is your favorite snack?
This is not a sponsored post, I was just really excited to share something new with you all!