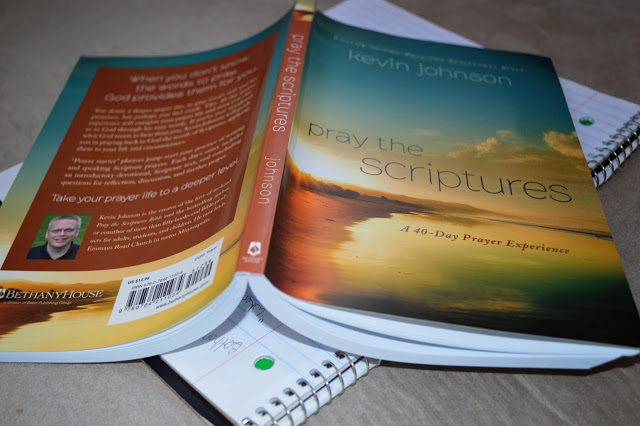 "When you don't know the words to pray, God provides them for you."
As a Christian, prayer life is incredibly important. I have to say that I have always excelled at reading my Bible, but praying is a completely different story. We are commanded to "pray without ceasing." However, I definitely feel that when I start praying, I go down all of these paths, and at the end am wondering if I even made any sense with all of my ramblings!
Pray the Scriptures by Kevin Johnson, is a wonderful way to help concentrate on what your prayer life should be. It is a 40 day commitment, which takes you on a journey through the scriptures and uses them as a primer for prayer.
Each day has a short devotional. It then has a few different Bible passages, and after each Bible passage there are "prayer prompts" to help you move into the right direction as far as how you should be praying. At the end of each chapter there are reflection questions which can help further the depth of your prayers.
I really like this book. I haven't made it all the way through yet, but I am looking forward to completing it. I want to have that deeper relationship with God that praying allows, and this is a great option for those who need a little prompting to find God's will for their life.
I was provided a copy of this book by the publisher, Bethany House, in return for my review. The opinions are my own.