My garden is not doing so well. I have planted exactly zero. I am lucky that I have kale growing out there
(apparently it re-seeded itself last fall), and then I have strawberries
growing and of course my rhubarb plants are doing extremely well. It is probably good that I haven't planted
anything yet though, since it is a lovely 44 degrees out right now. While there are several cold weather
vegetables that would be fine with this weather, I tend to grow more of the
tomatoes/peppers/cucumbers, and they don't enjoy the cold as much!
But, my rhubarb, well that is growing extremely well.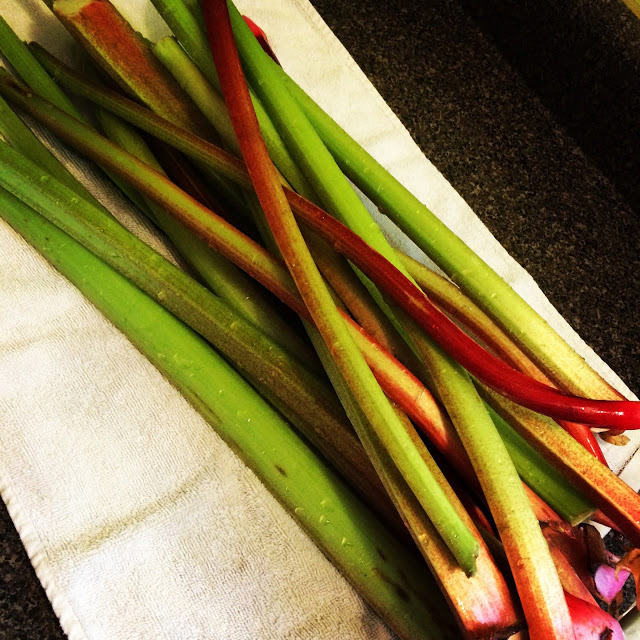 I planted three plants several years ago. They were separated from a friend's
plants. Actually the same friend that
gave my mom her rhubarb when I was little – which also is still growing really
well! Glad to know the rhubarb will
stand the test of time!
I knew I had to get out there and pick some to start
preserving, so this past weekend I did just that. I picked a little bit to try my hand at
canning it.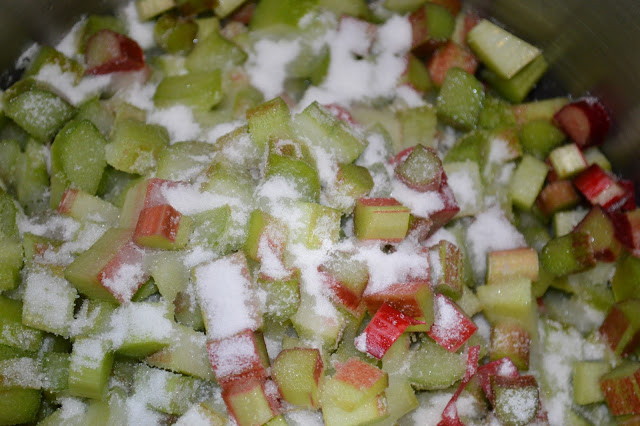 For all the rhubarb I have eaten over the years, we never
ended up preserving any of it. It always
went into delicious pies and rhubarb sauce for ice cream that was immediately
eaten.
I love rhubarb though, and thought that preserving some,
when we have such an abundance of it, would make sense. Especially in the middle of winter when I am
looking for a taste of spring again!
I didn't realize how easy canning rhubarb was. You literally chop up the rhubarb, add ½ cup
of sugar for each quart (4 cups) of rhubarb, and let it sit for several hours
to draw out the juice of the rhubarb, boil for one minute, then pack in hot
jars and process in a water bath canner for 15 minutes. It was the easiest canning I have ever done,
and I wish I had picked more rhubarb before the deluge of rain started.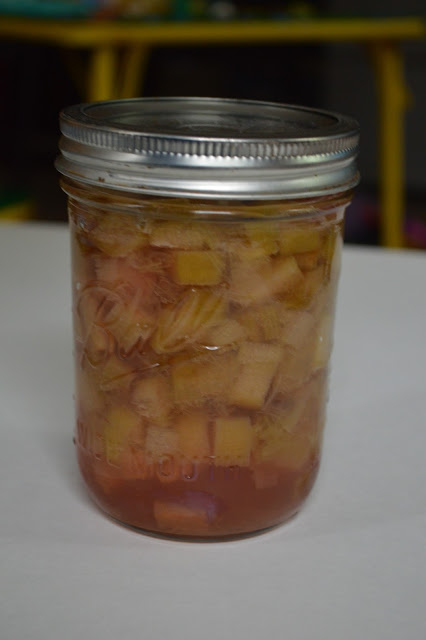 My mom told me to let the rhubarb sit for a couple days to
sweeten up and dry out after the rain, and then pick it again. So that is what I plan to do. And then I will pick a lot more for
canning.
Matt, the kids and I sampled some of the warm rhubarb last
night, and we all decided it was delicious and could be eaten straight from the
jar as our dessert after dinner!
As long as the rain continues intermittently we should have
plenty of rhubarb for me to make some strawberry rhubarb jam, which is
something I have wanted to do the past several years, but never got to
making. A few more weeks before
strawberry picking time, and then we will be in full swing of the preserving
season here at Townsend House.
Do you grow
rhubarb? Do you use it for anything
besides pies? Rhubarb sauce over vanilla
ice cream is one of my favorite desserts!