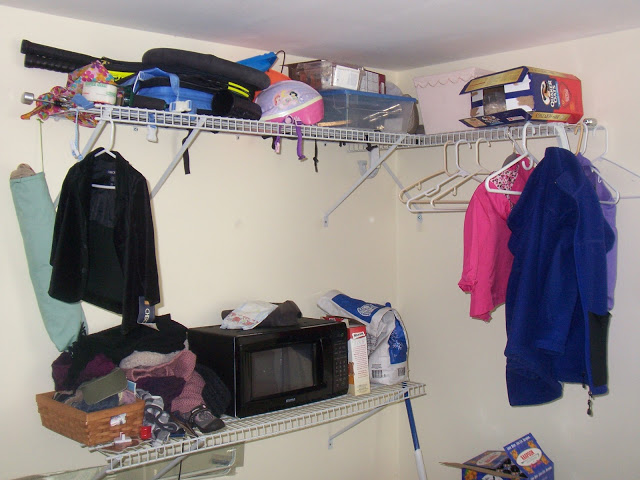 There, that is much better 🙂 Although, I now know that I need to go back to Sam's club, because we are running out of food for the month 🙂 Much the same as after I cleaned my fridge out!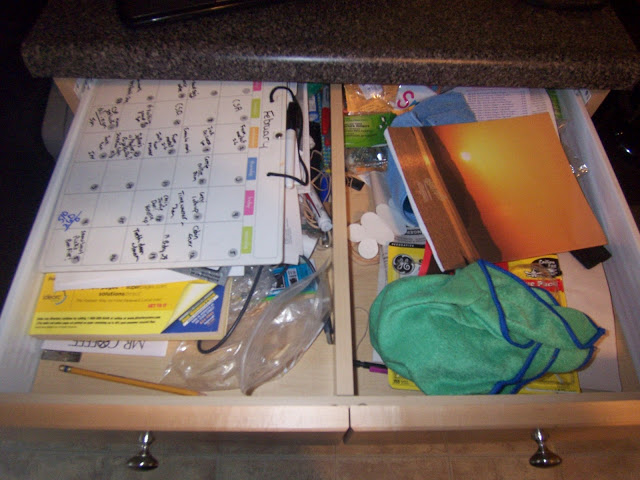 The next spot that I wanted to concentrate on is the junk drawer in my kitchen. Everyone has one. I swear I organize that thing once per month, but certain people really do consider it a junk drawer, and treat it accordingly. It doesn't help that the babes have started opening it up to take out the flashlight, or the bag of balloons…which is now way in the back of the drawer.
Because we don't have a closet, we have made the upstairs entryway into a walk-in closet. It works out pretty well, since we aren't renting out the studio apartment anymore. Instead we have made it into an awesome master bedroom. That entryway is just big enough for all of our bedroom furniture and a lovely metal hanging rack! And it has a door, so I tend to just throw stuff in there and shut the door. Honestly, Matt is supposed to be responsible for putting his clothes away, that doesn't happen, so I shut the door. It is to save my own sanity. "Heather, why don't you put the clothes away?" Thanks for asking! Matt works in our bedroom, so by the time he gets out of work I no longer have energy to do laundry, and I put it in the entryway, threaten to throw away all of Matt's clothes, and then shut the door 🙂
Oh, and those rails for a bed? Well, that would be the other reason I don't do the laundry at night. Our kids sleep in the room with us, and if I can get them asleep and then go downstairs for some quiet time, I do 🙂 Eventually we will move them to their bedroom. But, as of now, they are in our room. Emma has a nice little bed set up in the corner of our room close to our bathroom (which is nice in the middle of the night), and Jack is sleeping in the bed with us. See that luggage too? Yeah, well that actually does fit in the third closet I mentioned above, so it will be living there from now on, hopefully under the make believe shelves.
That pile of clothes, that is the clean laundry, not including all the stuff I pulled out of the drawers. I have gone through all of my clothes, Emma and Jack's clothes. The only one left is Matt. I separated out all of his clothes today, and put the few things that I think he needs to keep away, and the stuff I knew needed to be thrown away in the garbage. Now there are several organized piles in our bedroom that he needs to make a decision on. And if he thinks all 20 button up shirts are going to join the 4 that are hanging on that metal rack…he has another thing coming!
Ahhhh! So much better! Yes, I still have a lot of skirts…I could probably pare those down a bit further, but some I wear when I am gardening, some are for church, and some are for wearing around the house in the summer. I'm not sure a lot of people wear skirts while gardening, but it seems to work for me, so I am going with it!
Other questions you may have about this space…what are the boxes on the top shelf – those are winter scarves/gloves/hats etc. The two bins, one holds our winter clothes, ie long underwear, sweaters, snow pants, and the other holds the baby clothes that I am holding onto. The garbage bags, aren't they supposed to go in the trash – nope, those are all of my cloth diapers. We are on our way out of the diaper days (Jack asked to pee on the potty when he woke up this morning, and then actually did!), and I have pre-fold sizes from newborn through much larger than our children will ever be. Last question! What the heck is that huge TV doing in your closet?! Well, we got a new TV after the bulb went on this one. Why buy a new bulb when you can buy a brand. new. internet tv. Well, that was our thinking last winter anyways 🙂 And we just like to hold onto electronics…I'm not entirely sure why. You should see our speaker collection.
How are you all doing with your spring cleaning? I am still going strong. I haven't decided what my hot spot for next week is going to be. But, I do hope to continue bringing you my new and improved spaces over the next weeks while I continue to clean!
Don't forget to enter to win this great new book on minimalism, 3-2-1 Stop, stop running and start living.
Linking up at the Spring Into Organization Link Party!