I think it is probably time that we put the garden to bed,
don't you? It does seem a bit late in
the season to be doing this now. We had
such a fantastic October that it was not even on my radar to close up the
garden. Sure, there were occasional
afternoons where I would go through and pull some of the plants. Mainly the tomatoes, because they all go in a
trash bag – I am still very concerned about blight after the past couple of bad
seasons with regards to tomatoes.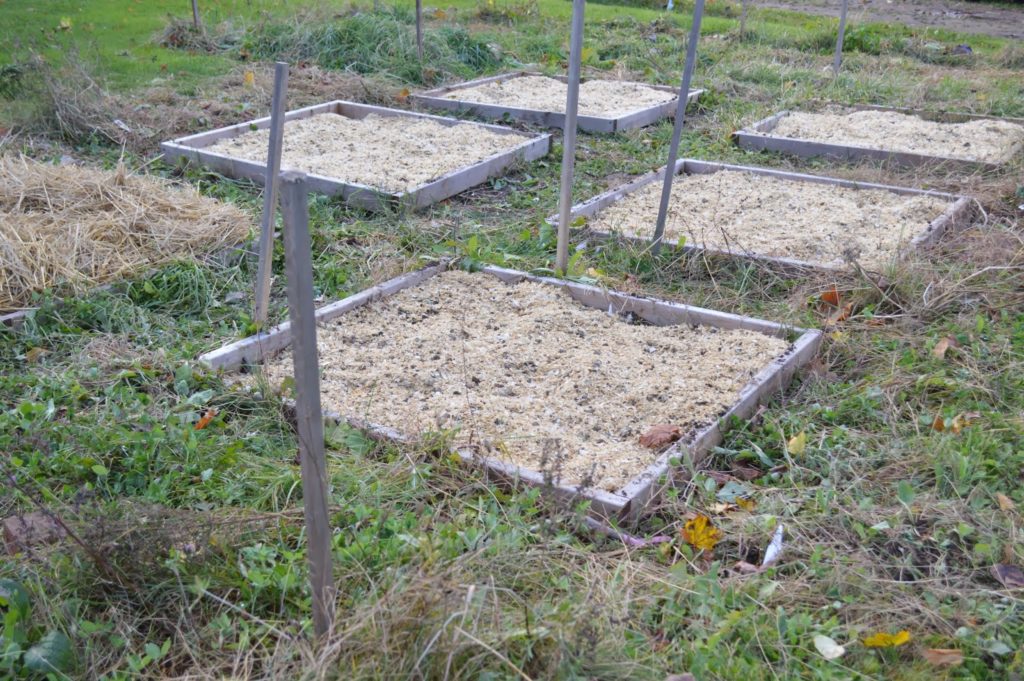 This year is going to be a bit different because we have the
4×4 boxes to work with. Typically, we
will get a truck load of horse manure from a friend, and Matt will just spread
it all over the entire garden space.
But, this year, we don't really need to fertilize the pathways where we
will not be planting. Matt had suggested
pulling up the 4×4 beds to hopefully avoid them rotting over the next couple of
years, but I think we will leave them there this winter and instead just put
the horse manure, and also the bedding from the chickens, into the beds. We will be expanding the garden next year, so
I will also be spreading manure and chicken bedding where we will be digging up
next year.
I have been utilizing the chickens' wonderful ability to
scratch up and eat weeds and bugs as well.
Every year I have trouble with bugs in the garden. This year, the one spot I didn't have trouble
was where the chickens had pecked and pecked the previous fall. I do not quite understand why some of the garden
would have bugs, and other parts wouldn't, but I am not questioning it. Instead, I am hoping that my chickens were
the reason, and I am unleashing them on the rest of the garden. It is a bit of a slower process because I
have to move fencing and put a new top on so that the chickens stay in the
dedicated area for longer than 30 minutes.
I am not entirely sure what I will do about the
pathways. It seems this summer I spent
more time weeding the pathways of the garden, than the actual garden beds
themselves. I would love to put rocks
down in between the boxes, but if we ever decided not to garden and wanted the
grass back, it would be a little complicated to remove all kinds of rocks. We also do not have a ton of money to spend
on beautiful garden pathways, so any ideas would be greatly appreciated!