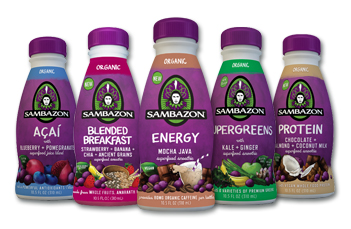 Have you heard of Sambazon juices? They are a delicious fresh, organic, non-gmo juice. Considering these are some of the biggest factors in deciding what I buy for my family, I was hooked even before I tasted them.
I recently tried the Acai with Blueberry and Pomegranate – well I say tried, but really I had about two sips before Emma and Jack stole the bottle and drank it themselves. It was delicious though, and something I was happy serving my kids. Anything healthy that I can give my kids is a win in my book!
Matt loves the Energy Mocha Java. He needs something quick in the morning, and this little power boost was great for on the go. It wasn't too sweet for the morning, and it gave him some much needed morning energy. Perhaps I should be keeping those bad boys for myself! With a 2 1/2 and 5 year old running circles around me all day, maybe I will try that next!
A little more about Sambazon:



Sambazon® offers a full range of fresh and organic juices, smoothies, and
frozen products in a variety of delicious and exotic flavors. Their products are
made with premium quality whole food Amazon plants and fruits that deliver
the highest bio-available nutrition. This company is truly dedicated to bringing
the next level of nutrition to the world while supporting the environmental
and social well-being of the Brazilian Amazon and its people. Sambazon
is both Organic and Fair Trade certified, supporting two million acres of the
Amazon Rainforest and over 10,000 family farmers.



You can find Sambazon on Facebook here
For my readers Sambazon is giving away 3 free product vouchers as well as a beautiful wooden bowl and spoon! To enter please leave a comment below telling me which product you would like to try the most. For a second entry please subscribe to my blog via e-mail here and leave another comment saying you have done so! I will close comments on 6/1. US residents only please!



Disclaimer: I received this product for free from
the sponsor of the Moms Meet SM program, May
Media Group LLC, who received it directly from
the manufacturer. As a Moms Meet SM blogger, I agreed to use this product and post my opinion on my blog. My opinions do not necessarily
reflect the opinions of May Media Group LLC or
the manufacturer of the product.


Linking up with Giveaway Day