This is a sponsored post on behalf of U.S. Cellular. All opinions, as always are my own!
What do you do with your old cell phone once you
upgrade? I think that is a question a lot
of us face, especially after the holiday season where so many people did get an
upgrade to their phone!
I am considering an upgrade to an iPhone 7 myself. But, if I get that iPhone 7 I will then have several
old iPhones. I think it is about time I
start selling some of them so that I can get a little extra money, and not
worry about having a bunch of unused devices in my house.
If you need more help after reading my tips, make sure to
visit your local U.S. Cellular store – they have an amazing customer service department
that will help you with any and all questions (I utilize them frequently!).
The most important
thing to consider when selling an old phone is to remove all personal
information from the phone.
Many of us keep personal information on our phones, from
saved passwords and financial information, to pictures and videos. What do you do with all that information
before you sell your device?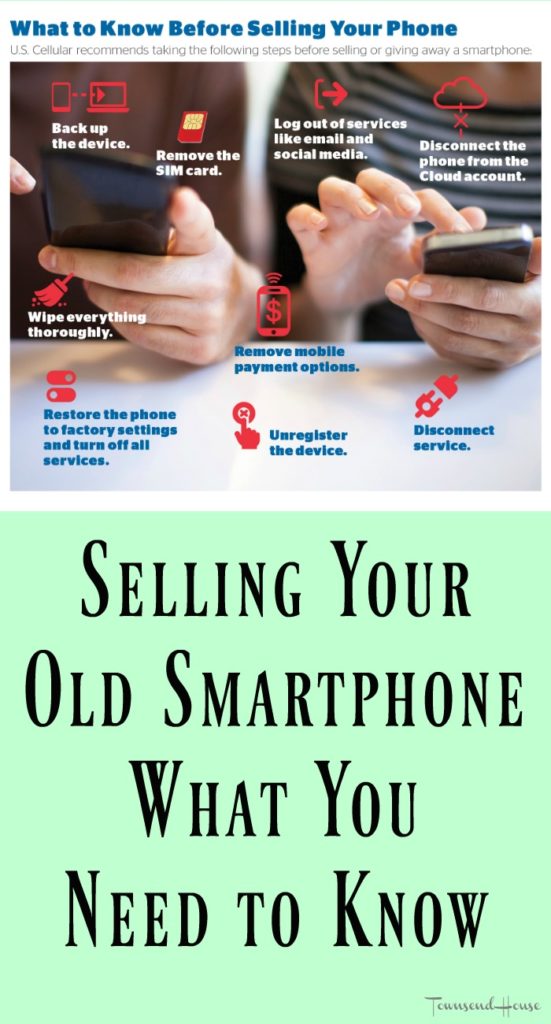 First – back up to your cloud account. This is really the first step. You want to make sure that all of your
information is saved in your cloud account.
It allows for easy transfer to your new device, and you are able to have
confidence that you will not lose anything.
Remove your SIM card.
The SIM card is the external storage device for your phone. You definitely want to remove this before
selling your phone. It is the small,
rectangular shaped card that is usually located near your phone battery.
Log out of services such as e-mail and social media. You want to make sure that you have
logged out and clear all your data from these apps.
Disconnect from your cloud account.
Make sure that you
disconnect your device from your cloud account.
You obviously do not want people having access to your cloud information
after you have sold your phone.
Remove mobile payment options. These
days many people are using mobile banking for bill payment and other financial
needs, make sure that you remove these options from your phone.
Restore the phone to factory settings.
This should remove all
personal information, but I would definitely follow the above steps first, just
to make sure everything is really gone from the phone.
Disconnect service.
Chances are, if you upgraded, you have already disconnected service from
your phone. However, if you haven't,
make sure that you do!
Unregister device. If
the phone is registered with Apple by its serial number, remove it by logging
into supportprofile.apple.com with the Apple ID information.
Similarly, Androids will need to be unregistered. First, go
to the Google Play store from a computer's Web browser. Then, go to the gear
icon at the top-right-hand corner of the screen, and select the Settings
option. Deselect the device from the Google account under the Visibility
option. This will hide select devices from appearing in the Play store when
attempting to download a new app.
And finally, if you are looking into purchasing a used
device, it is recommended that you wipe your new phone clean before
personalizing it with your own information.
That will ensure that the device settings, data, and apps are yours
only. You will start with a clean slate!
Did you upgrade your
phone over the holidays? What do you do
with your old phone when you do upgrade?