Social media
is an amazing way to connect with a variety of people, not just locally but all
over the world. It has given us a sense
of community pretty much constantly.
However, social media etiquette often gets swept under the rug – perhaps
because people don't know as much about how to behave on social media, or
perhaps because they are essentially behind the curtain and unafraid to share/post
whatever they please.
I don't
think a lot of this is done maliciously (although obviously if you watch the
news some of it is), but I think do think that it is a lack of information on
social media etiquette.
Social media allows us
to communicate quickly to a large audience.
This accessibility means we should be careful that what we post is
appropriate and conveys the intended message.
I know that
I am constantly on my iPhone 7 looking through Instagram pictures, and
also posting my own. I love to scroll
through Facebook and see what everyone is up to – it is a great way to
find community, and it is also the preferred way people seem to communicate
locally as well (kids' activities I am talking about you!).
Using your phone too
much and at inappropriate times can annoy others – in fact 71% of smartphone
owners get upset at others for excessive phone use at least some of the time,
according to a recent U.S. Cellular survey¹.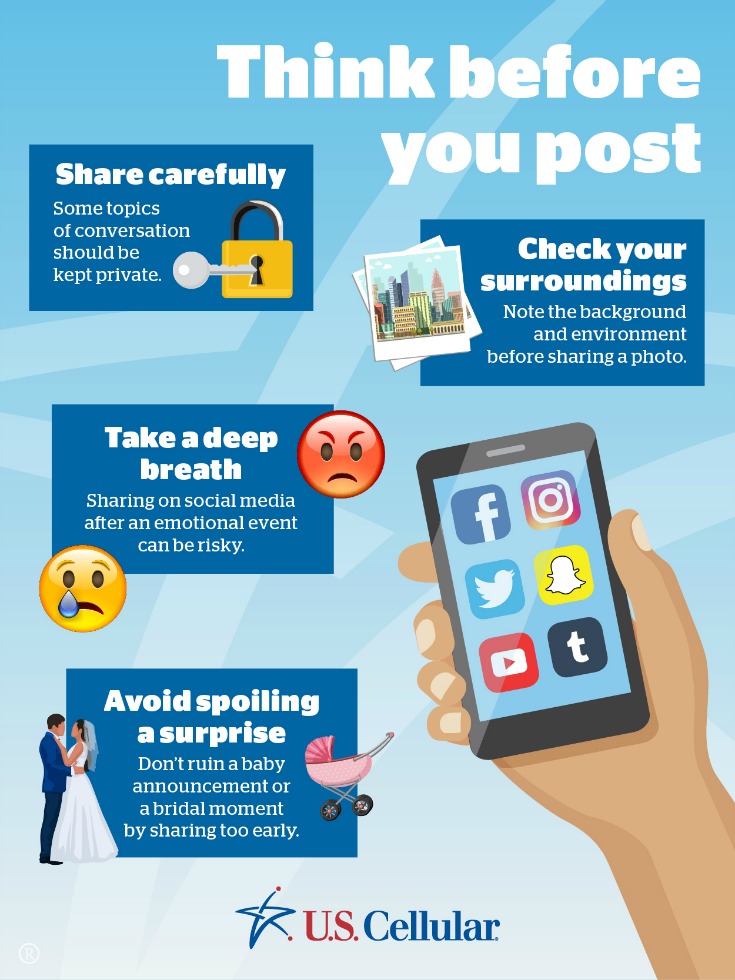 Think before sharing
– before you post on Facebook or
send out a tweet, stop to think about the message that you are trying to
convey. If it is immediately after an
emotional event, it might not be the best time to post your feelings on the
internet. A good rule of thumb would be
to relax, take a deep breath, and think before you post on any social media platform.

Check the background
before posting –
we have all seen those funny photo bombs posted on social media. An easy way to combat this is to take a
careful look at your photos before posting them. Instead of just trying to get the perfect
filter, pay attention to what is in the background!
Ask before posting
pictures of other people – this is a big one.
There is a difference between posting pictures of yourself and your own
kids and posting pictures of other people and their kids. Whenever my kids are in a big group and I
take a cute picture I would like to post to Instagram, I ask everyone involved
if it is OK to post the picture. The
answer is not always yes. I am
particular about the pictures I post of my own children, and I know a lot of
people prefer to keep their kids completely off of social media.
You should
also ask before tagging people in a picture – they may be ok with having the
picture, but may not want to be tagged across their own social media with the
picture.
Be careful when
engaging in online conversation – Facebook statuses and tweets are usually conversational in
nature, but it is very easy to get the wrong idea from words typed on a
screen. When you can't see the person's
face while they are saying something to you, it is easy to take things out of
context, or read meaning into the words that isn't actually there. Be aware that anything you post online can be
read by others, even if they are not actively part of the conversation.
What are some social media etiquette
rules you think need more attention?
¹
Between Nov. 10-17, 2016, a total of
701 online interviews were conducted among a nationally representative sample
by Consumer Insights, in partnership with Maritz CX.