I've done it! I have cast on for my very own pair of socks. I don't know why I am so nervous about it. Not nervous I guess, but apprehensive. I can knit socks. I have knit many pairs of baby/toddler socks. Adult socks can't be that much more complicated, right?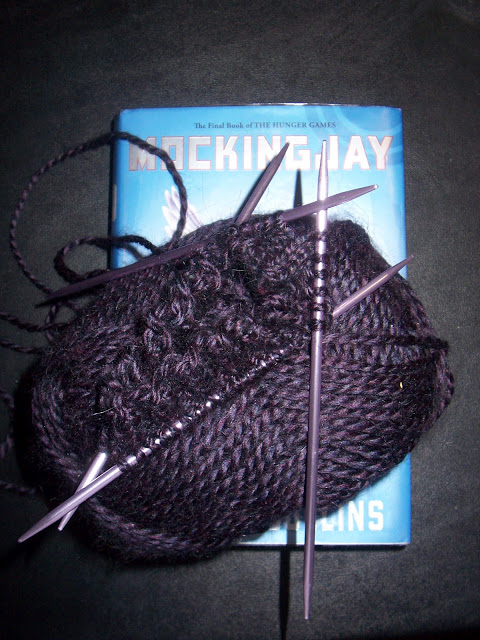 I think what worries me the most is that I will get into the knitting, finally get one sock done, and then never finish a second one. That is why I like knitting for my kids, quick and easy 🙂 I may be going about it wrong, but I haven't really found a pattern that I like…instead I am going to wing it and hope for the best! I do have a ravelry account, but I never seem to be organized enough to get on there, post my projects, post about my yarn stash. And so haven't had time to actually figure out if there is a pattern there that I like. I like the pattern I do for my kiddos, seeing as it is so easy and knits up quick. I figure with a bit of finangling I should be able to come up with something for my own feet 🙂
And there is also the whole "sock yarn" bit that I haven't quite worked out…I don't have any sock yarn…so I am using what I have, which I am assuming is quite a bit thicker than sock yarn. Cross your fingers for me everyone, I may end up with some crazy tube sock that I end up stitching shut at the toe and calling it good!
As for reading this week. I am still reading Mockingjay. Well, finishing it up really. I have to say that I really have enjoyed the series, and that makes me question myself a bit. It seems like such a deranged story, and I don't know how it was so easy to get into it. I think that I am always rooting for the underdog, and this seemed to be a good book for that. I don't want to give anything away, since I am sure there are people out there who haven't read even the first one yet. Let's just say that I am really interested to see how they make this into a movie, because from my point of view, it doesn't seem possible without an R rating…but I have heard they want it to be PG-13 for the younger fan base. I am also reading a wonderful book that has not been released yet, but I was asked to do a book review for. So far so good! I hope to share more about that after it is released, probably at the end of March 🙂
Linking up with the wonderful Ginny and her awesome yarn along! I am always amazed at the beautiful work that I see each week from other bloggers!