Over the next several weeks I will be talking a bit about my spring cleaning. I would love for you to join me! Please add your link from your kitchen organizing posts below!





How did last week's kitchen deep clean go? It was a little stressful for me. I wasn't in a place to clean before Easter, and with all the leftovers from Easter dinner that lasted a few days, my fridge was/is not in a place to be deep cleaned. But, it will get done!
I have completely cleaned off my counters though. I always love to look at my kitchen with absolutely bare counters. No appliances, no olive oil sitting out. It is so much better to look at. Granted, it usually only lasts about 5 minutes before dishes start piling up again and random snacks get set out on the counter.
I was able to re-organize the cupboards to work better for me right now. Especially the spices – which seem to get used and then shoved into the spice cupboard with no thought to where it was before it came out! At this point I am storing a TON of glass jars which are mainly cleaned and empty from my canning this past summer. I am down to the last few jars of preserved food at this point, and that means that all the empty jars need to be organized. A lot are stored in my dining room armoire, but the others are in the cupboards. This is the point where I wished that I had a pantry to put them in!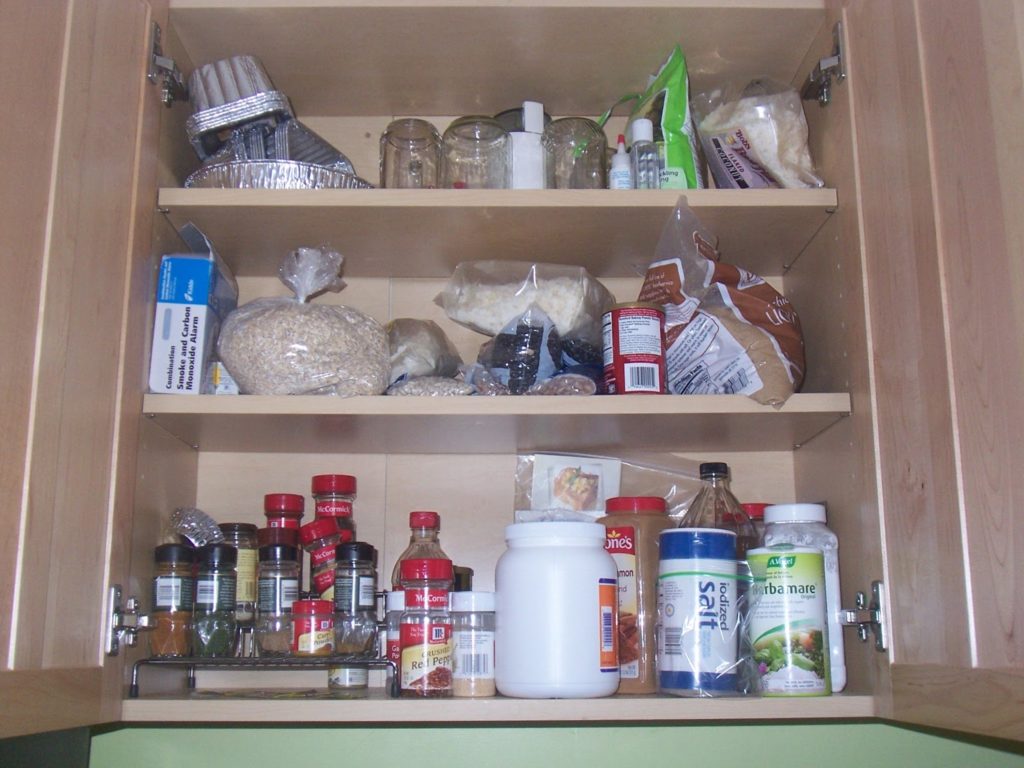 spice cupboard before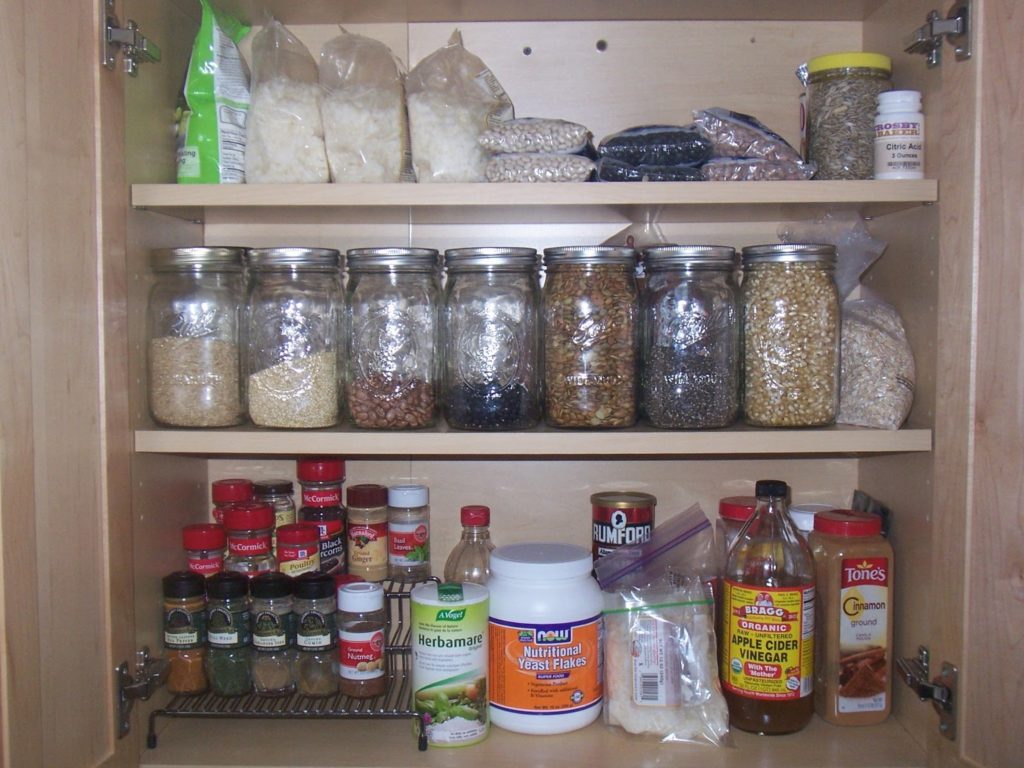 spice cupboard after
In case you were wondering, that is a whole lot of shredded unsweetened coconut on the top shelf. I have started making my own coconut milk, and it is pretty much amazing. I will try and post the extremely easy recipe this Friday for what i am eating.
This week we are going to work on the play room/craft room area of your home. You may not have a dedicated room for this, but I am sure there is a section of your home that your kids utilize as their play space, or you use for your craft supplies. So we will focus on that this week.
If you have a craft space, most likely you have A LOT of craft supplies. I know that I do. Some things I need to replenish, but there are also some that I know we will never use. This is the time to make a large donate pile. Is their fabric or yarn that you have picked up, and then realized you will never use? Bring it to goodwill, or give to a friend that will use it. No use storing it if you won't use it!
We already worked a lot on cleaning up the toys for the kids back in week one, so we won't be getting rid of anything this week, but organizing is a MUST! I have gotten a ton of clear plastic containers that you can find holding cosmetics in drugstores (thanks mom!) and the kids have taken to separating their toys into categories and then putting them in the containers. It is nice because they are clear, so even when they are on the shelf, they know which toys are in there. That helps to decrease the amount of toys that are pulled out looking for one specific thing.
Do you need a better organizational system? Would shelving and baskets work? Can you check at a drugstore and see if they are getting rid of any commercial storage containers that might work in your space? Maybe you should re-access your space and see if it belongs in another section of your home – I do this almost monthly!
Green Tip
Having kids means a lot of crafts are in our lives. Save all of your scrap materials and separate into baskets or boxes in a craft area (or closet!) of your home. Anytime the kids want to create something, you can give them all of the old newspapers and random cardboard boxes for them to go to town. It is getting more use out of otherwise disposable products, and you don't have to buy new supplies! My kids are very aware of all of the garbage that leaves our home, and my daughter often reminds me that we should use x for a new project. She then rescues it and stores it in the craft room for another time.


Do you have a craft space in your home? Do you save any of your "trash" for the kids to use in their projects? Please link your kitchen organization posts below!





Linking up with Tsh for Project Simplify