Spring is in the air! Can you feel it? Well, we can't quite feel it in Maine yet, but considering the snow is mostly melted, I have decided to start spring cleaning! There is something about getting the house all cleaned up in the spring.
Over the next several weeks I will be talking a bit about my spring cleaning. I would love for you to join me!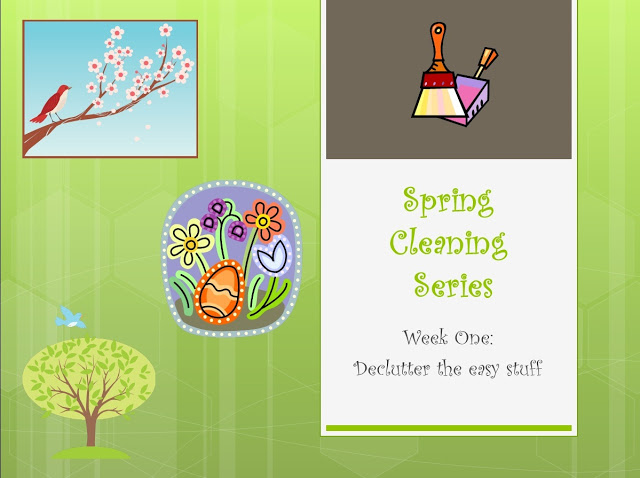 This first week my focus will be on decluttering the easy stuff. What a task that is. I am not sure why, but we seem to accumulate a lot of stuff. I think it has to do with the extra layers of clothing that need to be out during our very long winter, and then of course the hold over from Christmas presents. I try to go through the kids' toys before Christmas, but inevitably I do it again at the end of winter. As the kids get older, they are no longer interested in some toys, and I feel better about packing those up and either selling them at a yard sale or consigning them – or giving them away!
I know that most of you won't be able to completely declutter your home in one week, but try and work on the big things. Switch out your winter clothes for spring/summer clothes and pack up any kids clothes that no longer fit. Switch out some of the kids toys. Which ones are they playing with and which are getting tossed aside?
Get rid of old magazines and newspapers. Are there random pieces in your house that you don't like? This week is all about easy decluttering. The stuff you know you should be parting with. If you have to think about it for more than a couple seconds, don't get rid of it. You can look at it when we go through individual rooms!
Green Tip:
If you have clothes that are too stained to sell or donate, cut them up into rags. You will be saving the clothing from being sent to a landfill, and will have some rags to work on the rest of your spring cleaning!


Next week I will have a link up for everyone to link to posts and pictures about their decluttering process and I would love for you to come back and link up! Good luck!
Have you started your spring cleaning?


Linking up at the Mommy Club and One Project at a Time