Over the next several weeks I will be talking a bit about my spring cleaning. I would love for you to join me! Please add your link from decluttering below!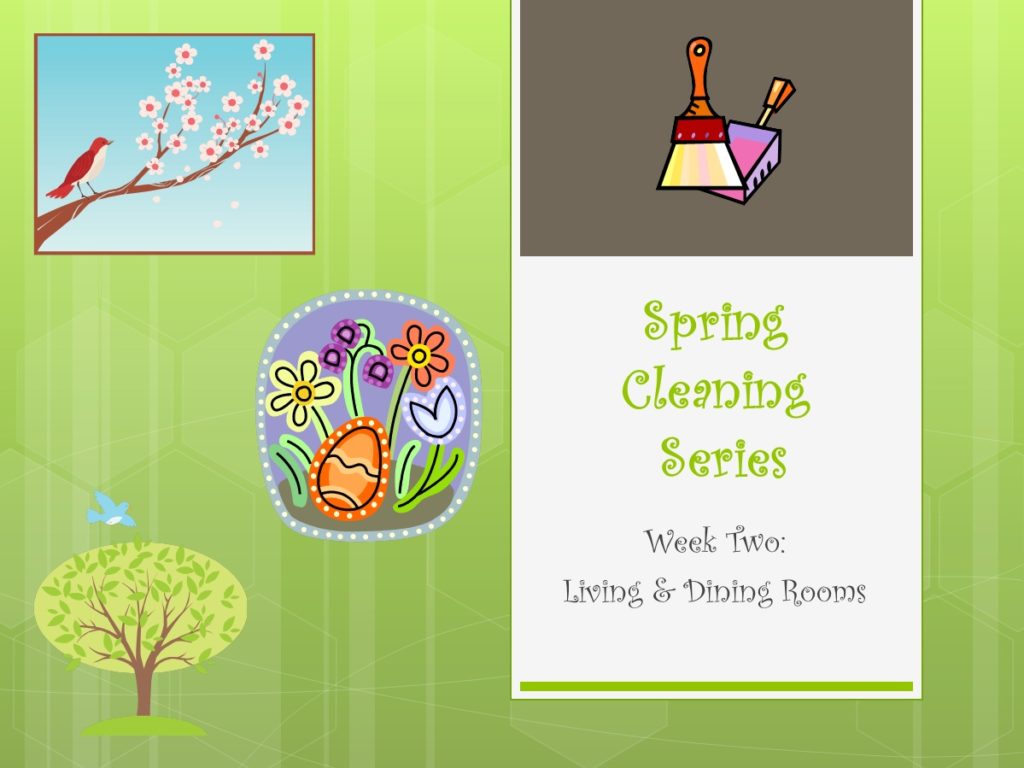 How did you all do with decluttering the easy stuff (winter clothes, unused toys, etc.)? I have to say that I was pleasantly surprised with how smoothly this process was for me. I think that because I have been decluttering regularly for a couple years now, it has made the process a lot more streamlined. My kids were actually excited to go through their toys and re-organize.
We didn't have a lot of toys to get rid of. Once we went through them all we realized that the kids do play with them all, they just have a lot of pieces! I think most open ended toys are like that though. You will notice that in the picture with the clothes to consign, the boys clothes are lacking. That is because I have already passed them on to my brother and sister-in-law for my cute little nephew! But believe me, there were a lot of pieces I got rid of!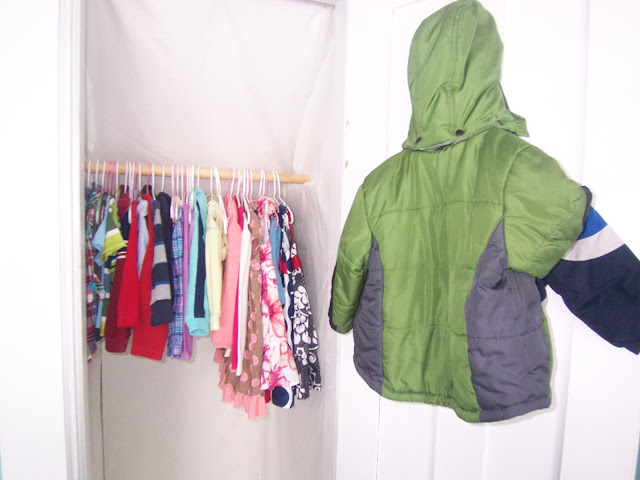 kids closet before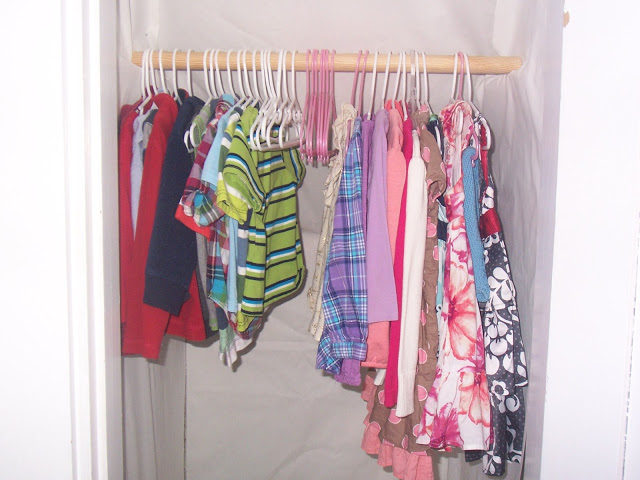 kids closet after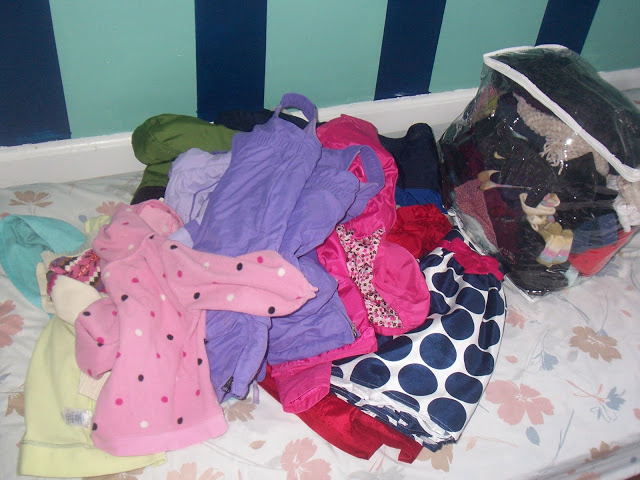 clothes to consign and winter things to put away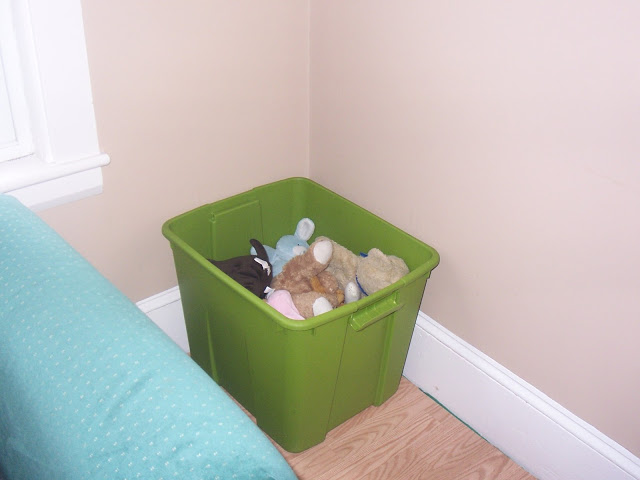 "friends" bin in living room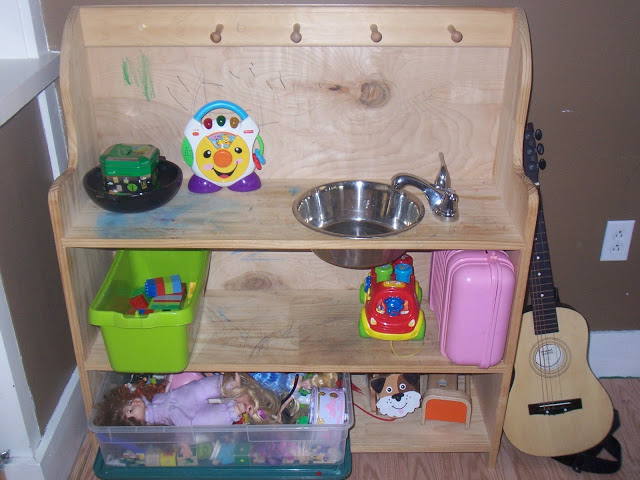 toys that stay downstairs in dining room
This weeks challenge is a little more labor intensive. We are going to work on the living room and the dining room.


Now, my living room seems to be a catchall for toys, blankets, pillows, and goldfish crackers! The first thing we are going to want to do is make sure that everything in the living room is supposed to be there. For me, that means just furniture, and one bin of toys in the corner.
The same can be said for our dining room, for some reason we like to leave a trail of toys in every room of our house. Luckily, last week I worked on getting the toys slightly more organized. I will go into more about our toy organization when we get to the bedrooms.
This is the time to take the cushions off the couch and chairs and vacuum them. If you have a fold out couch, like we do, unfold it and make sure the mattress is clean. I like to keep a clean sheet on it. Move the furniture and really scrub the floors if you have hard floors, or if you have a rug, sprinkle baking soda all over the rug, let it sit for 30 minutes and then vacuum it up. Wash the baseboards.
For the dining room, make sure your table is cleaned off, this isn't the place to store papers or books…or my computer! Look through your hutch if you have one, dust the shelves and any decorative pieces. Dust off the top of the hutch as well! Are there items that are cluttering this space that shouldn't be there?
This would also be the time to wash your windows, inside and out. My house has a lot of windows. And because of that, I don't wash them all at once. I try to do a couple rooms at a time, so hopefully my house always has a few clean windows 😉
Green Tip:
Instead of using the typical commercial cleaners to wash your windows, use distilled white vinegar and a rag. It cleans just as well, and doesn't burn your nose while you are cleaning. If you are worried about the vinegar smell, don't be. Once the vinegar dries, the smell with dissipate. Plus, if you are cleaning the outside of the windows, you will let some of the vinegar smell go outside!


I am looking forward to seeing all of your decluttering posts and pictures, so be sure to link up below!

How did the decluttering go from last week? Were you able to get rid of a lot of stuff? Are your winter clothes and toys all packed away for next year? Were you surprised at what you were able to get rid of?






Linking up at Mommy Club