This shop has been compensated by Collective Bias, Inc. and its advertiser. All opinions are mine alone. #SummerCarCare #CollectiveBias
Despite what appears to be never-ending cold temperatures, I
know summer is coming. And since summer
is coming, it is time to start getting our car ready for all of those spur of
the moment road trips and other outings.
The first step in getting our car ready for Spring and
Summer is to switch out the snow tires.
Honestly, we usually do this right at the end of March, but for some
reason we left them on a bit later. This
ended up being a good thing since it was snowing last week…
Then we really love to get the kids involved and "detail"
the car. There were days when I was
younger, pre-kids, pre-marriage, that I would bring my car to the dealer and
have it detailed. It always came out
looking so nice and clean, and smelled new again! Of course, that is a luxury. Luckily, I have two little
monkeys who really enjoy this sort of "work."
Perhaps because they get to use the hose!
Letting the kids have a big bucket of soapy water, some
sponges, and a hose, they can get the car surprisingly clean, burn off a ton of
energy, and have a fun time doing it.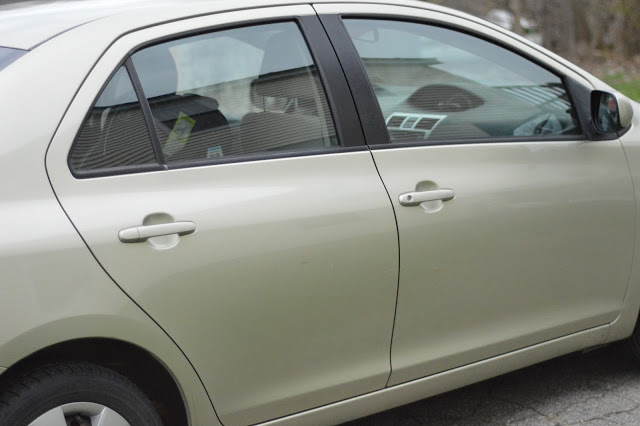 Living in Maine, throughout the winter, the roads are
covered with salt and sand. These can do
a number on your car, so getting all the gunk off in the spring is something I
always look forward to.
We also use this time to get the inside really cleaned
out. We have three kids, the older two
definitely eat snacks in the car, there is trash that needs to be removed,
everything needs to be vacuumed out.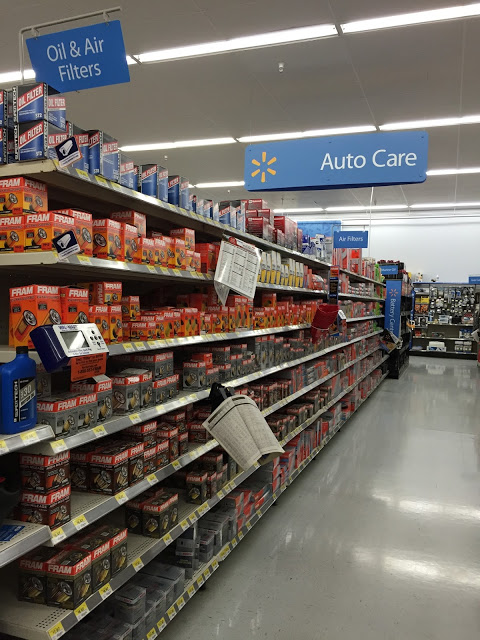 Because of the aforementioned cold weather, we haven't been
able to get out for a car washing party yet.
But we have been able to go to the car wash, which is equally as fun in
my children's eyes. They love to see us
spray down the car while they are inside, bonus points if we go through the
automatic car wash!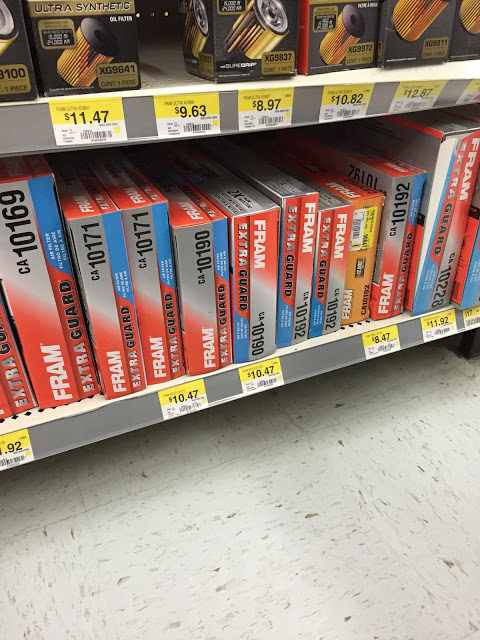 The last thing we like to do is change our air filter. You know, until a few years ago, I didn't
even realize this was a thing that we should be checking on the car. Not until I brought my car in for an oil
change, and the mechanic explained to me that my air filter was black and no
longer working. Well, goodness, I hadn't
ever heard that before!
FRAM recommends that you change your air filter every 12,000
miles – *follow recommended change intervals as noted in your vehicle owner's
manual.
After paying an arm and a leg to get the filter changed at
the mechanic that time, I realized that we should really figure out how to do
it ourselves, and since then Matt has been taking care of it – an easy fix, he
claimed. It helps that we can easily
purchase the FRAM Extra Guard Air Filter right at Walmart. It is so much less to buy it and do it
ourselves, rather than having a mechanic do it.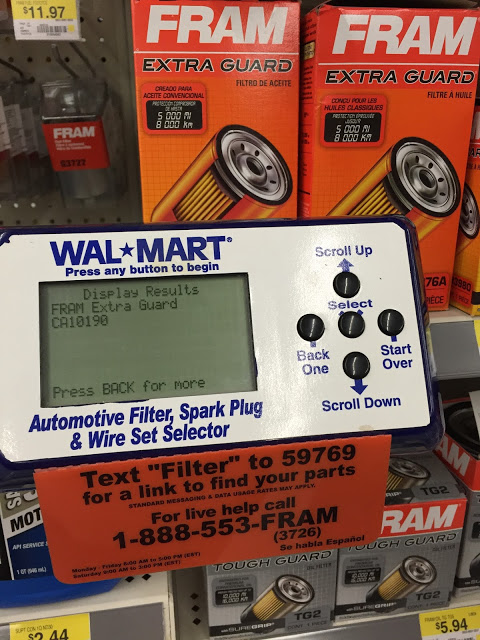 Air filters help protect the engine from dirt and end up
being the first line of defense for your engine, and also helps engine
performance – it can help increase acceleration and horsepower.
I love that you can easily type in your car make and model
and figure out exactly which air filter you need. It made this large aisle of air and oil
filters a little less intimidating.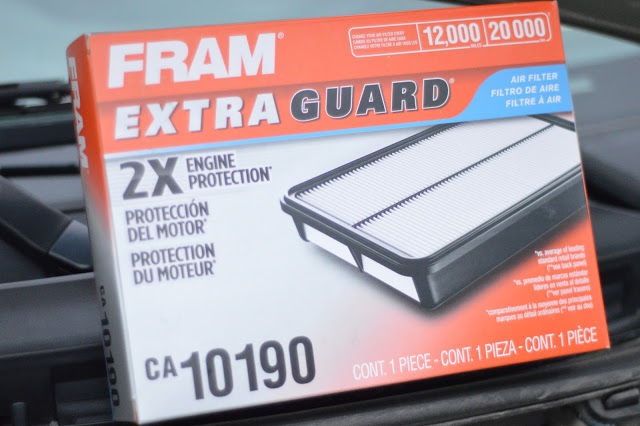 I decided that I wanted to see how easy it is.
I want to preface this by saying that I know NOTHING about
car maintenance. I typically leave that
up to Matt. But, this year has been
about learning new things and becoming a bit more proficient at tasks I usually
let Matt take care of. If an air filter
is easy to change, I want to try it!
Plus, most air filters can be changed in less than 5 minutes – I wanted
to test that theory!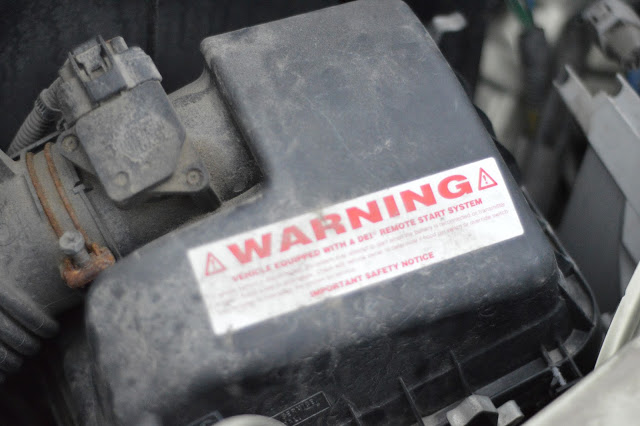 First up – find out where the air filter is. When I looked under the hood of our car, I
may have gone completely blank. Luckily,
the owner's manual actually tells you where it is if you don't know!
Lift up the cover by unfastening the clasps.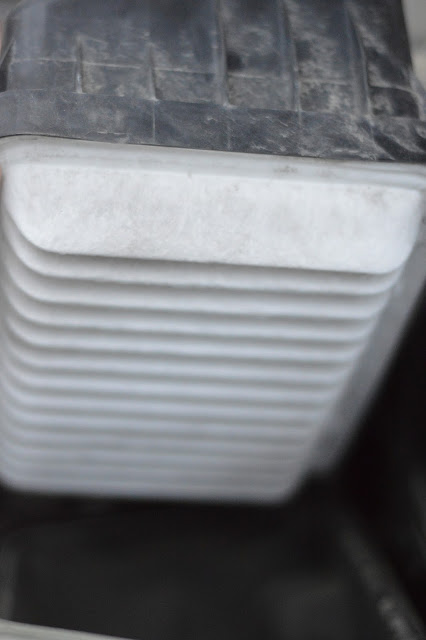 Pull out the old filter.
I was surprised to find so many helicopter seed pods from a Maple
tree. I took this opportunity to scoop
all that junk out and wiped down the edges of the cover with a cloth to get
most of the dust off the cover.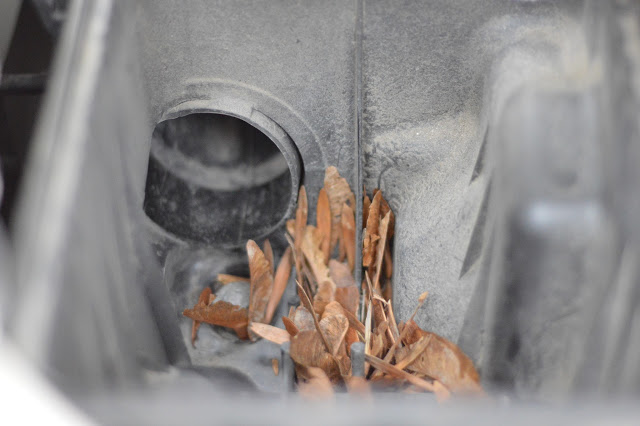 The next step – place the new FRAM filter under the cover. Then close the cover and call it a day.
Honestly, I heard the five minute claim, and thought that with
my *very* limited knowledge, I would not have a clue how to do it.
I surprised myself.
It was super easy to change, and now I know
that I can do it myself!
What Summer Car Maintenance tasks to you do on your car?