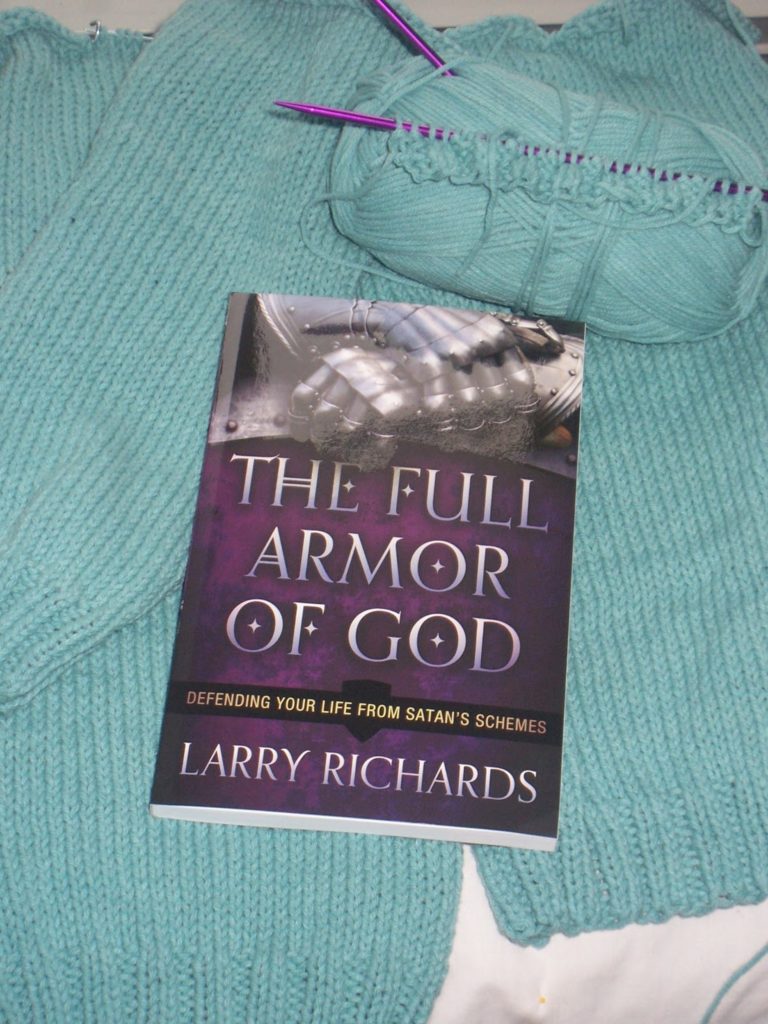 I know, the sweater should be done. It really should be! I haven't made much more progress from last week – so we will just leave it at that. I am still enjoying the knitting, but with the addition of a little warm weather last week, we were spending a lot more time outside cleaning up the yard, and not so much time sitting! It will be done soon though, and then I will have to figure out what my next project will be!
This week I am reading The Full Armor of God, which is a really nice complement to the book I was reading last week – Your Beautiful Purpose and you can find my review here. I have just started this book, but so far so good. I think that anything which helps to improve your chances against the negative forces of this world is an important one. It is so easy to fall into, especially these days of constant information overload.
In other news, you may (or may not!) have noticed that I started a Facebook page for Townsend House. Well, yesterday somehow I was blocked as not a real person. Very cool, considering I am actually a real person! Apparently in order to unlock my account, Facebook wants me to either provide a cell phone number so they can text me a code (I don't own a cell phone), or upload a government issued ID to show that I am a real person. Yeah, that is not going to happen. Seriously? A government issued ID? Who in their right mind is going to send that to Facebook? – no offense if you actually have done that.
If you have recently liked my page, and wondered why I haven't liked your page, well this is why. And also why there are no updates. Being unable to login to my account, I can't even delete it…so I am sticking to the much less complicated twitter 🙂 You can find me over there @townsendhouse1
Are you working on any new projects this week? New books I can add to my growing list? Do you have an intense dislike of Facebook as well?
Linking up with Tami and Ginny