Goodness, has it really been three weeks since I have been
in this space? It seems like the time
slips away so easily recently, and finally I had to take a step back to breathe
a bit. I thought a little spring update was in order.
The third week in April saw us finishing up our homeschool
year, which was wonderful! I think this
is the earliest we have finished all of the curriculum that I had chosen for
the year, and that was an exciting thing.
I spent a good bit of time trying to stretch out some of our history
curriculum because I wanted to wait a bit longer before moving Emma to the next core in the curriculum we use.
This seemed to work out well, and I think the
kids really enjoyed diving a bit deeper into some of the stories that we were
visiting in early American history.
Once we finished our homeschool year, it was time to move
into birthday season around our home!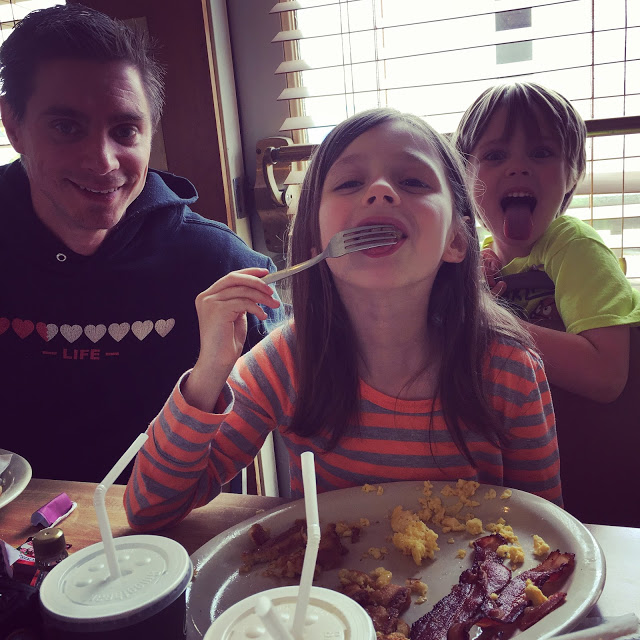 My birthday is Earth Day, and so that kind of set the tone
for the last few weeks, ending with Emma's birthday this past week. That little girl is now nine, and turning
into such a lovely young lady. It is
amazing to see how much she has grown, and how she really is so much more
independent than even last year.
One of my friends, who also has a daughter turning nine this
year, and I were discussing the fact that they are now at the half-way point of
our care of them before they move onto college, or whatever comes next for them
as adults. I can't lie, it was a little
sad to discuss, but also reminded me of how important these days are. It definitely made me re-evaluate how I often
I say no, and how reading just one more story, or playing a game of monopoly is
what I want to continue doing, as long as they are asking – the housework can
wait (it can, right?!).
We have been busy with visiting friends, playing with the
dog, going to orthodontist appointments, and trying to get outside whenever it is not pouring out, which
unfortunately is not as often as I would like in the spring. However, it looks like we might finally get
some good weather this next week, and I expect all of us will be digging in the
garden and trying to get things ready to plant in the next couple of weeks.
I have also been working on a blogging course, which I am
loving, but it also reminds me of a small business management class that I took
in college where I had to write out a business plan and create my own small
business…and let me tell you, I took for granted having all the time in the
world to study in college! It has not
been easy, but it is challenging in a good way, and helping me to think through
some different scenarios that I have been putting off for way too long.
I am definitely looking forward to being back in this space
a bit more now. Taking this little break
made me realize how much I truly love to be in this space and writing as much
as I can.
How is spring going in
your neck of the woods?