There are affiliate links in this post. That means if you click on one of these links, and make a subsequent purchase, I may receive a small commission. Thank you for supporting Townsend House.
When you think about your summers growing up, what do you
think of? What about today? How do you plan to make this summer your Best
Summer Ever?
The long lazy days of summer, those are what I wished for
growing up. I knew that I wouldn't have
any school responsibilities, I would go to camp and see my friends, my family
would spend weekends at the lake water-skiing and swimming, and having such an
amazing time.
As an adult with three little children, I still look forward
to those summer days, but they are not long, nor are they lazy – at least not
for me! But, I do want to provide that
same atmosphere for my kids.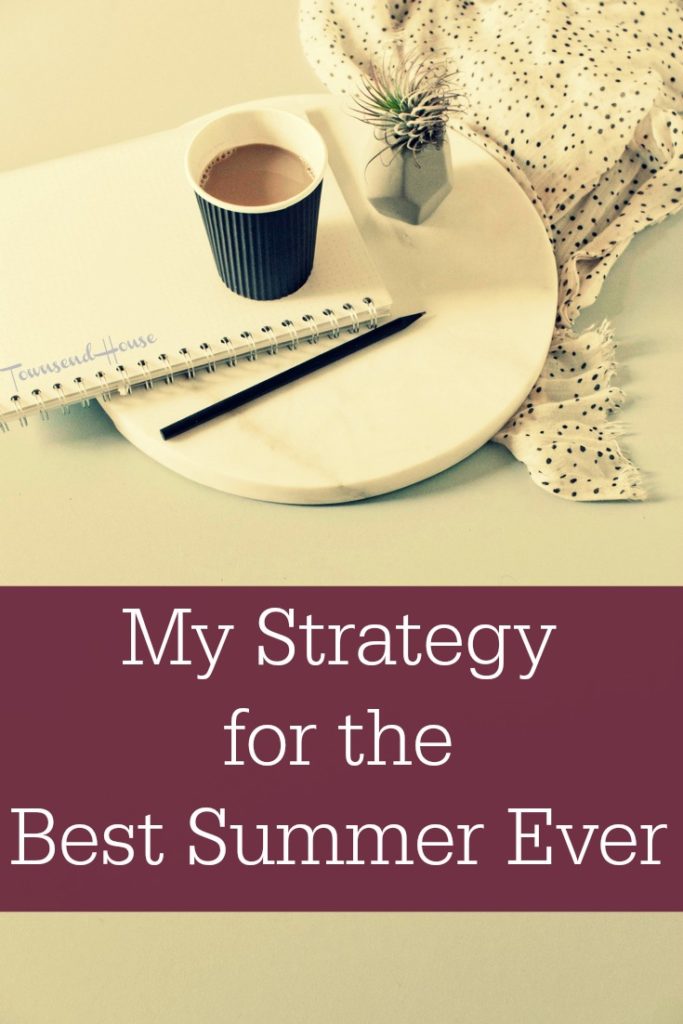 Homeschooling plays a significant role in our summer plans,
but even though we tend to do school on the hottest days of the summer, that
does not mean that we are inside all day every day.
Summer is a time when our normal routine and rhythm make
their way out the window, and we have a lot more freedom in our days.
But, how do you make sure that you are able to have a
relaxing and fun time when you have children with you all day every day?
Last year I was lucky enough to order Lara Casey's 2017
Power Sheets Goal Planner early enough to receive all twelve months, but I know
that a lot of my readers did not order in time and she sold out – she always
sells out quickly. But, right now she
does have 6 month Power Sheets available, so if you were thinking about getting
them, you definitely should.
Last Wednesday when I talked about
margin, and making sure I have margin in my days and weeks, I said that I was
going to deliver some tools in order to help you. These are those tools.
Goals always were something that I thought of as a New
Year's activity, but throughout this year I realized that is not true. We can't just set all of our goals at the
beginning of the year, even if they are SMART goals. We need to continuously revisit them month
after month, and that is what I am working on now.
We are shifting gears in our homeschool, moving to our
"summer schedule" where it is a lot more interest-led, and a lot less
seatwork. But, I am not only planning
our summer school schedule I am planning the rhythm that I want to have
throughout the summer, and as an extension of that, the rhythm my kids will
have as well.
Taking the time to write down what you want your summer to
look like will keep it fresh in your mind.
It will allow you to say no to the activities that will not necessarily
benefit your family, or may hold you back from something that you really want
to do.
When I see parents plan every bit of the summer, I feel for
them. I know that it is important for
kids to still have a routine – they do thrive in routine after all – but
allowing them some freedom to explore, to be outside, to be bored, those are
things that children seem to be missing out on in today's society.
Now, if you want to have your child involved in a lot of
activities, I get that, it certainly helps with sanity, but perhaps allowing
for a Sabbath rest one day a week, where you are able to get out in nature and
observe God's creation. Take that time
for you to slow down as well.
I have seen a lot of people that make a bucket list for
their summer – if that is something you like to do, definitely go for it. However, make sure that when you make that
bucket list you don't put so many items on the list that you may not be able to
finish it. There is nothing worse than
having a wrench thrown into your plans, and I definitely ere on the side of
less is more.
Practicing mindfulness while including margin in my calendar
is what my family will be working on this summer. It is something that will help me to cultivate
the simplicity I desire in my home, and hopefully give my children the same
love of the long, lazy days of summer that I remember having when I was growing
up.
If you are looking for further reading – a book that I really love to recommend when talking about slowing down and savoring life with your kids is Simplicity Parenting by Kim John Payne.
What are some of the
goals that you have for your family this summer?