This is a sponsored post brought to you as a
U.S. Cellular
Ambassador. All opinions are my own.
Planning the perfect date night has changed a lot since my
husband and I started dating almost 18 years ago (yes I had to check how
long!). I remember when I got my first
cell phone my freshman year in college from U.S. Cellular. It was a Nokia. I loved it, however, it didn't have near the
capability of my iPhone today. I'm not
sure I even knew how to text with the number keys…and I certainly couldn't look up a good restaurant to go to.
There are so many options available today to help plan the
perfect date night, and as a married mama, date nights are most definitely fun
and important!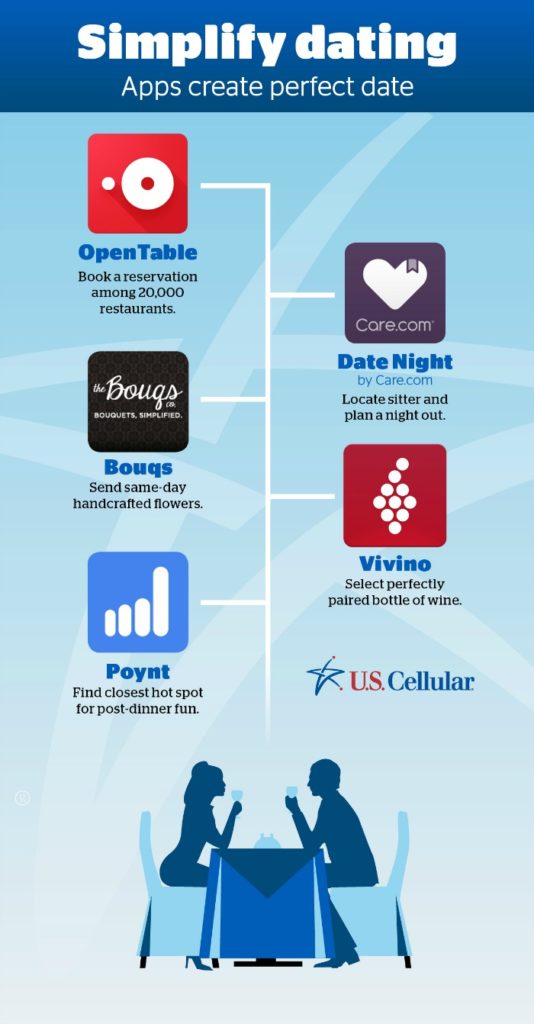 My favorite dates with my husband are pretty basic, getting
out to a nice dinner that I don't have to cook or clean up from, and a place
where we can sit and talk – all important to me. But, it seems to take us FOREVER to figure out exactly what we want to do.
Top Five Apps to Plan your Perfect Date
OpenTable – This app is perfect because it helps you find
restaurants to eat at, and then lets you also make reservations – win-win! And if you have Apple Pay, you can use your
iPhone to pay for everything.
Poynt – If you aren't ready for your evening to end and instead
want to get out to get drinks after your meal, Poynt will use location services
to find the closest hot spot for after-dinner fun.
Bouqs – I am kind of old fashioned in that I LOVE to get fresh flowers
from my husband. They always brighten my
day (and my home – especially in the middle of winter). This app allows you to buy flowers and even
have them delivered same day. This app
would actually work for any occasion where a special bouquet is needed!
Vivino – This app is perfect for the in-home date night. If you are having trouble finding a wine for
the evening, you can snap a picture of the label, and the app will tell you
ratings, reviews and even food pairings for that wine.
Date Night by Care.com – As a mom, going out for a date is
hard, but this app makes it easy to find childcare in your area. It also will open OpenTable and Fandango to
help plan out your dinner and a movie.
What was your most
memorable date night?