The busyness of fall has set in. Every year I say that this will be the year that we slow down in the fall, and then inevitably we fill up our schedule, and fall busyness happens again.
As an introvert I definitely struggle with busyness – the constant
out and about and being surrounded by people exhausts me. I crave that alone time, which is hard to
come by as a mom of three little ones I am with all day every day. However, I have come to recognize that Emma
is most definitely an extrovert and gets her energy from being around other
people. The jury is still out on Jack and Lucy (although I am leaning towards introvert for Jack).
After I got over the shock of having an extroverted daughter,
I realized that I was going to have to adjust my expectations of what would
work for us for homeschool.
Part of the reason that I am homeschooling is so that I can
tailor the education of each of my children to what works best for them.
While I know that what we are working on together for the
actual "school" portion of our day works, I knew that she needed more
activities. This was kind of difficult
to swallow because I would rather spend time at home curled up with a book.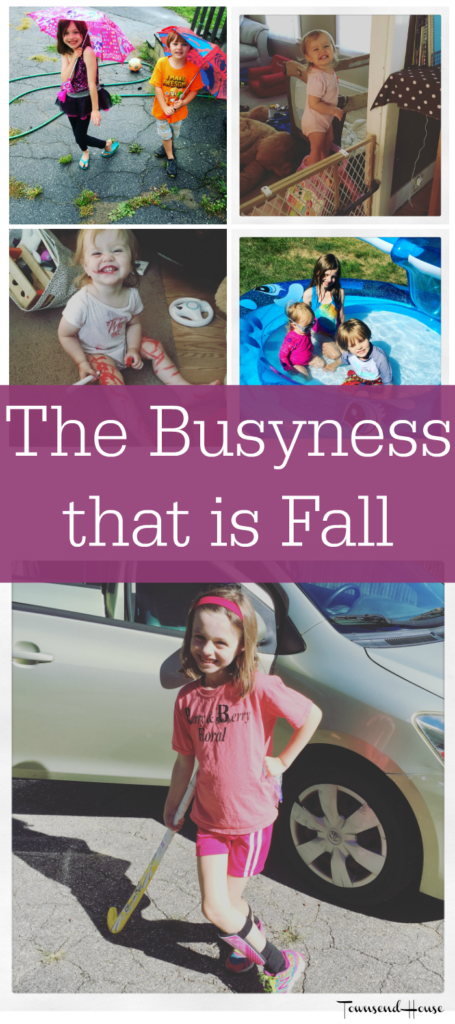 This year we thought that Emma would do piano lessons and
then one activity (sport/dance/theater etc.) and then we would also have the
homeschool co-op once a week. However,
the co-op decided to not continue this year, and that meant that we had a
little less social time for my very outgoing daughter.
We ended up with piano, theater, and now also field
hockey. She thoroughly enjoys each of
these activities, and while busy, it still allows us time to get all the other
work we need to, done.
It has been a bit challenging to fit everything in,
especially with Lucy teething recently, so we are still working on a rhythm
that will work well for the kids, and for me.
It is a learning process every year, trying to make sure that our
schedule works, and that the kids have a good expectation of what is coming
next.
So here is to the next few months of complete chaos, which
should bring us right up to December, where we enjoy taking a much needed break
from the day to day and move onto more fun holiday activities.
How busy does your day
get when the kids go back to school? Do
you have strategies you use to keep your sanity? Any other introverts out there?!