This post contains affiliate links. If you purchase something through one of these links I will receive a small commission at no extra cost to you. Thank you for your support of this blog!
Marketing. What does
that word bring to mind for you? Is it
spreads in magazines or newspapers?
Commercials that interrupt your favorite show? Or the much more enjoyable Super Bowl commercials, perhaps?
What about Influencer marketing?
Influencer marketing is the art and science of engaging people who are influential online to share brand messaging with their audiences in the form of sponsored content.
As a blogger, Influencer Marketing is something I know well
from the influencer side, but not so much from the business perspective.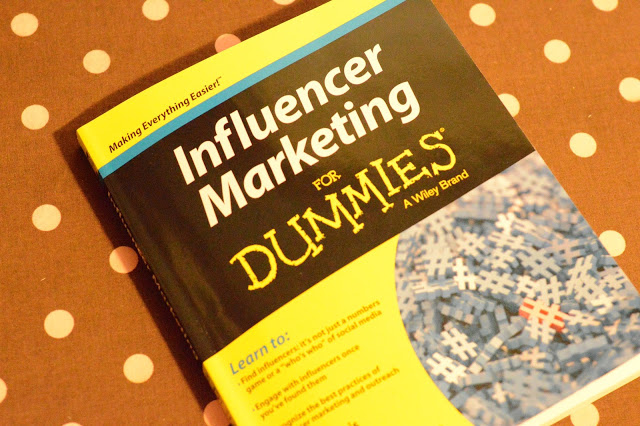 As a blogger I am constantly trying to figure out what a
brand is looking for when wanting to partner for different types of campaigns. Are they looking strictly at numbers? Are they more concerned about community when
sharing their product?
This book lays it all out for you. It shows how brands are able to utilize the
changing landscape of marketing.
As a consumer, I know that I am always looking for what type
of online presence a brand has. I will
spend time researching online, reading reviews, looking at ratings – but they
often are on blogs, or on social media, and not directly from the brand. Seeing an ad on TV or in a magazine doesn't
typically elicit the same emotion as hearing the personal story of someone
using a product.
Reading through this book, I am able to see how important an
online presence is for a brand. It is
also nice to see how it works from the other side.

Influencer Marketing for Dummies is a great reference manual. It lays out every facet of influencer
marketing, from the types of influencers, to what makes up a great campaign, to
choosing a hashtag for your campaign.
I think this book is great for small business owners, and
people trying to build a brand with the help of social media, as well as
non-traditional forms of marketing. Also,
if you are a blogger who is looking at the why behind campaigns, and how a
company thinks when they go into a social media campaign, this book is a
wonderful reference!


Do you think of
yourself as an influencer?
I was selected for this opportunity as a member of Clever Girls and the content and opinions expressed here are all my own.