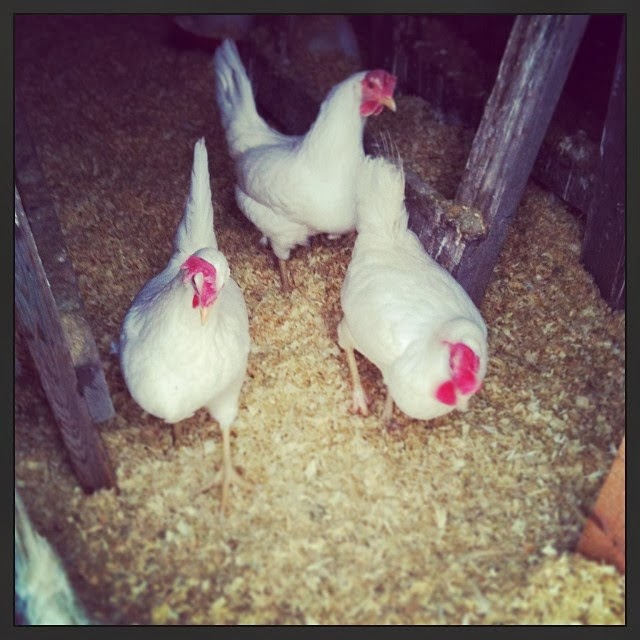 Oh the chickens, how I love them so, but not right now. No, right now they are not laying eggs. Actually, I'm not entirely sure that is the
truth. I think they are laying eggs, but
they are eating them.
We had been getting five glorious eggs each day. I was shocked. This is their second winter, and I know that
normal chickens like to take the winter off.
But, my girls just kept on laying – well, not the araucana, she only
ever laid one egg every couple of days and most definitely took last winter and
this winter (and fall) off.
Then we had that incredible cold snap, and I am not sure
why, but I think this triggered my girls into cannibals. So, now they are eating their eggs. Matt went to check on them one morning and
they were all eating one egg – but just one.
Since then I was trying to get out there to get eggs as soon as they are
laid. Unfortunately, my chickens are also
strange in their laying times. Sometimes
they lay early, sometimes they lay in the afternoon, and I swear that one likes
to lay eggs around dinner time. So
unless I am prepared to go out and check every hour (I'm not), then I don't
think I have much of a chance of getting all the eggs.
Well, we haven't gotten one blasted egg in the past two
weeks. It is cold here in Maine,
obviously my hens are not out playing and eating grass and bugs. No, they are eating very expensive organic
feed. And they were going through it
like no tomorrow. That was until I
realized that we have something living under our chicken coop that has gnawed
through the floor and was stealing chicken food (and possibly the eggs my
chickens are not eating.
So, we have a couple issues.
One being the infestation of something under the coop (please don't say
rats, please don't say rats), which I think is probably rats, because I am
assuming weasels would attack my chickens, any chicken experts out there? The other issue is that we are going through
too much feed, whether it is the chickens eating and not laying, or something
stealing the feed out of the coop. I
think we will be butchering our chickens (or taking them somewhere to be
processed) in the very near future.
It definitely makes me sad because these chickens have been
a real blessing to us. But, it also
means that I can look forward to new chicks in the spring, which is always a
fun thing to look forward to. I'm not
sure how excited my husband will be about getting chickens again (he hates when
he has to do anything with regards to the chickens), but I know that he enjoys
eating the many eggs we get. My hope is
that we can eradicate the problem of the critters under the coop and start new
in the spring. And in case anyone is
wondering, we keep the bag of chicken feed in our house, and nothing is in our
house eating the food! We started taking
the feed in at night hoping whatever is under the chicken coop would go away,
so far it hasn't worked.
Any tips for chickens
that eat their own eggs? What do you do
with hens that don't lay in the winter?
Critter proofing a hen house? We
didn't have any issues last year! Why
now?!
Linking up at the Homestead Barn Hop