This post was sponsored by Lionsgate as part of an Influencer Activation for Influence Central. I received complimentary products in order to facilitate my review.
How far would you go
to keep the hope of love alive? That
is the question that is explored in the hit novel by Nicholas Sparks.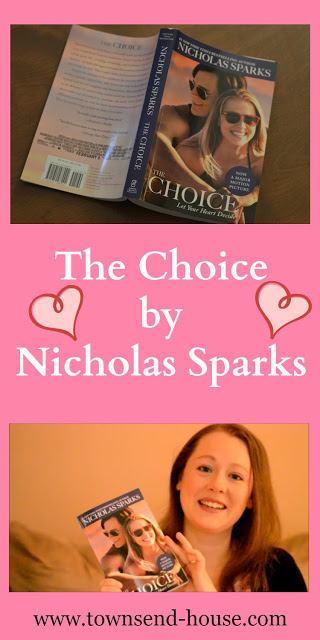 I absolutely love a Nicholas Sparks book. There is always so much emotion in those
pages. The Choice did not
disappoint!
Travis Parker has
everything a man could want. In full
pursuit of the good life, he holds the vague conviction that a serious
relationship would only cramp his style.
That is until Gabby Holland moves in next door.
This story is all about looking at the choices in front of
us. Which path are you going to take
when there are two completely different, but happy, outcomes?
Gabby has moved to this small town in North Carolina in
order to be closer to her boyfriend, Kevin, whom she is sure will ask her to
marry her…soon. But, when Kevin goes
away on a business trip, and her neighbor invites her for an afternoon on his
boat with friends, a spark happens. Does
she really want to be with Kevin? She
knows she loves him, but what will her life look like if she makes a different
choice.
This book is made for the big screen and I am so excited
that the movie, based on this book, comes out tomorrow, February 5th.
The book starts out with a prologue in the present day, and
then Travis has a flashback to when he and Gabby met. The entire first part of the book is that
short time span when he and Gabby meet, and the choices that they both are
faced with. It is a love story, there is happiness and sadness, everything you expect from Nicholas Sparks!
I can't wait to see how this love story translates in the
movie. Watching the actors take hold of
the characters and their emotion is going to be wonderful!

To watch Gabby struggle with her decisions, is she making
the right decision by being with Kevin, they have been together so long and this is what she wants, isn't it. She knows she loves Kevin and
sees their life in front of her. But,
she also has a spark with Travis, and can see that life as well. Which one should she choose, neither is
bad.
It is all about choices, we all face them every day. I know that I am constantly trying to make
the *right* choices for me. It is a
constant battle, whether in love or how to raise your children.
I can't wait to see
this movie! Are you going to see
it? What is your favorite Nicholas
Sparks book?