Yesterday I talked about the lists that I make for Christmas planning. Today I am going to talk about filling in those lists.
Last year was the first year that I really started using Pinterest to help me plan for Christmas. I was looking for craft ideas, food ideas, ideas for presents. It really worked out well to see these beautiful pictures while I was figuring out what I wanted.
Last year I mainly had a Christmas board and a Crafts board. This worked out really well for last year. But, I definitely was having trouble figuring out where everything was. If you only pin a couple of ideas, it would not be a big deal, however, I really like to pin…a lot! My plan for this year is to better organize my boards. I will be going through my old boards first. I want to figure out what I made last year, what I wanted to make and never got to, and what I attempted and realized that I am not as awesome as I think I am 😉 I can move some of pins to new boards that I have planned.
I know that I am going to have a Christmas Eve party this year, and I know that I will be providing all the food, drinks and activities for the kids. So, I am going to have a specific board for Christmas Eve. I also know that I have 3 beautiful little girls, a little boy and a newborn that I will be making for this year. I will have a board for the girls and one for the boy (or boys!). Then, when I am looking for a pattern, I can easily find it without having to scroll through a million other ideas. It will be the same with decorations, and then again with Christmas crafts that I will do with the kids. Pinterest can definitely help you to get organized, and stay organized throughout the holiday season if you stay organized.
I think another aspect about Pinterest is that it keeps you motivated. At least it keeps me motivated. When I go in and see the beautiful pictures, I want to recreate what I see in the picture. Now, I know that I am not a professional chef/knitter/decorator/fill-in-the-blank, so I don't expect to see everything exactly as it is. But, I do like to go in and look at the pretty pictures and then re-interpret it to my own family and situation. It is mainly for inspiration, but when I am having trouble getting through one more craft or recipe, going there helps to motivate me to see the end result.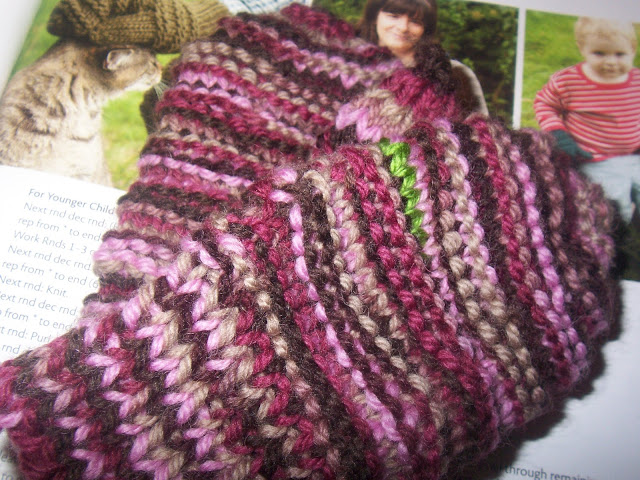 the green is where the thumb will go 🙂
One of my goals this year is to knit a hat and pair of mittens for everyone (it started out as a sweater for everyone, but with only one done for Emma, it just won't be happening this year!). The pattern for the mittens actually came from the newest issue of Taproot, so I won't be pinning that, but if you have the magazine, try that pattern. It knits up pretty fast – this coming from a knitter with many interruptions 🙂
Joining up with Ginny at her yarn along! And also at The Mommy Club