This morning I was thinking about how I didn't order
tomatoes for canning. In the back of my
mind I knew I wasn't going to call and order tomatoes, and had none from a
garden, but I was still telling myself I would be canning over Labor Day
weekend. I obviously didn't.
It made me start thinking about some other failures that I
have had lately – mainly my many homeschooling plans and having
to weed out some of the extra so we have time for the essential.
Looking at all the things I want to accomplish is kind of
crazy. I know that I can't do
all.the.things., yet I still strive to; I keep making those goals.
I
realized then that I have the luxury of failure.
I didn't preserve much of anything this year – OK rhubarb,
rhubarb is the only thing I preserved. I
would say that is a local eating failure, especially going into the
winter.
But, wait, I have an amazing farmers' market in town that I
can still go to and get local food. When
I fail at going to the farmers' market (let's be honest, I never make it to the
farmers' market), I can still get local food at the co-op. And if I fail at local food (often, I often
fail at eating local), I can go to the grocery store.
Even though I was unable to get my act together and plant a
garden, or even preserve the bounty of food available in my area before the
winter, I am not going to be hungry this winter.
I know that I often look at the failures in my life and feel
defeated; I can't be the only one. But,
I have to remember that failure is a luxury.

With food, I can get food at the grocery store; I can always
plant a garden next year. It isn't like
150 years ago when if I didn't plant a garden, I most likely would go hungry in
the winter. If I make too many
homeschooling plans, but my baby decides she doesn't want to nap anymore (yes,
this is happening right now) we can change course, and adjust what we are
doing. I don't have to be concerned about
my children not learning, because we still have so many resources available,
even if I don't complete all the extra, unlike so many around the world who
have zero access to any learning materials.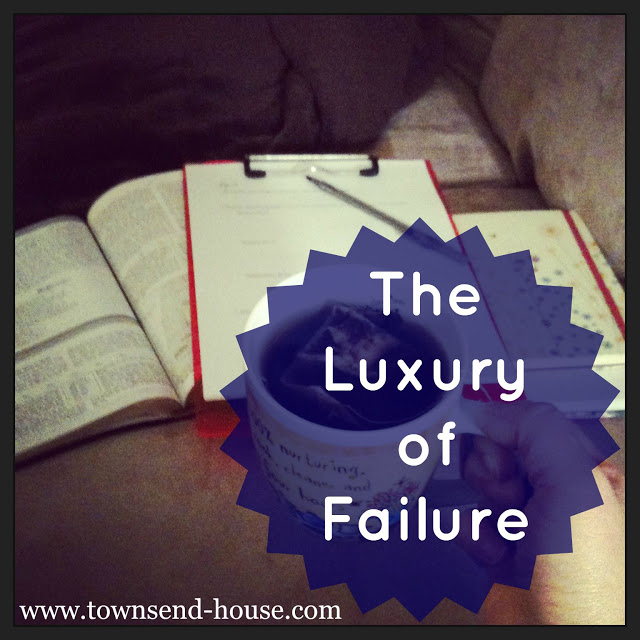 If I fail at my goals, it isn't the end of the world; it
means in this season of life I might not be able to accomplish those specific
things, not that it will never happen, but instead not right now. I still have the luxury of dreaming and
knowing that I have the opportunities that many do not.
When I think of the state of the world, knowing that I have
so much freedom, so much opportunity, I realize that I have the luxury of
failure. Not that failure will completely
turn my life upside down.
I know that I am often hard on myself for not completing
something I felt like I needed to complete, but I need to give myself grace for
those failures, and realize that I am lucky that it doesn't have a real,
negative impact on me.
On blogs we see so much positivity, and sometimes forget
that not everything is what it seems. I
think we should start sharing some of our struggles as a community. I think that would be helpful to one another,
knowing we aren't alone in our struggles, but also able to see the numerous blessings
that can come from those failures.
Where is all of this coming from? Well, watching too much news of course!
This is not a political blog, it isn't a world issues blog,
it is a lifestyle and family blog; but I feel like with everything going on in
the world I have to count my blessings instead of complaining about not getting
tomatoes canned this year, or not completing the extra project I had planned
for the kids in August.
I also feel the need to pull back the curtain a bit
more. To show that we all have failures;
and it is OK. We have luxury in those
failures because it really isn't the end of the world for most of us. Not everything you see on the internet is
really that perfect life. There are
always struggles, there are always failures, and it is choosing what we want
shown.
I think that the
positivity
is definitely needed, but it
shouldn't become a false representation of life. Blogs, Vlogs, pictures; they are all just a
snippet of real life. Know that I have
the same failures that you have, and know that I want to encourage you through
them!
Do you
have the luxury of failure in your life?
Do you give yourself grace in those times of feeling not quite
accomplished enough?