I received this subscription box for free. I was not required to do a review of this box, but I loved it so much I wanted to share it with my readers! I hope you enjoy it!
I love subscription boxes.
There, I said it. I think that
there is something so fun in getting a little surprise in the mail monthly or
quarterly. I was really excited when the
wonderful people at The Remedy Rush reached out to me to share their spring box.
Rushing a Premium Assortment of Artisan Spa & Body Products right
to your Door!
The Remedy Rush is a quarterly subscription box, and costs $59.
I love natural bath products they are definitely some of my
favorites because I always try to choose the safest options for my skin. I knew right away this would be a great fit
for me!
When you open up the box, you see the card which has an
explanation of why the item was prescribed, as well as a description of each
item and the retail value.
This box SMELLS AMAZING!
All of the scents were so perfect, none were too strong, and they were
all incredibly refreshing.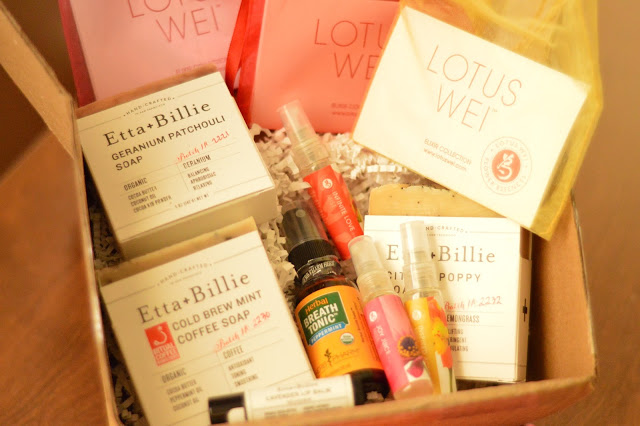 Lotus Wei Flower Essences – Three mists were included.
Infinite Love, Joy Juice, and Inspired Action. They were all incredibly fresh, not too
strong, but the perfect pick me up for your day.
Etta + Billie – Three
artisan bar soaps and one natural lip balm.
Citrus & Poppy Seed Soap, Geranium Patchouli Soap, Cold Brew Mint
Coffee Soap, Lavender Lip Balm. These
soaps smell AMAZING. The lip balm is
moisturizing and feels nice on your lips.
Herb Pharm – Herbal
Breath Tonic. A natural breath spray to
kill germs and keep your breath fresh throughout the day.
I loved this box. I
think that the contents were awesome, and the value is definitely there. If you have ever bought natural, artisan
products before, you know how expensive they can be. Having this box is an excellent way to sample
some amazing, sustainable products.
Have you received this
box before? Do you like to use
sustainable or green leaning body products?