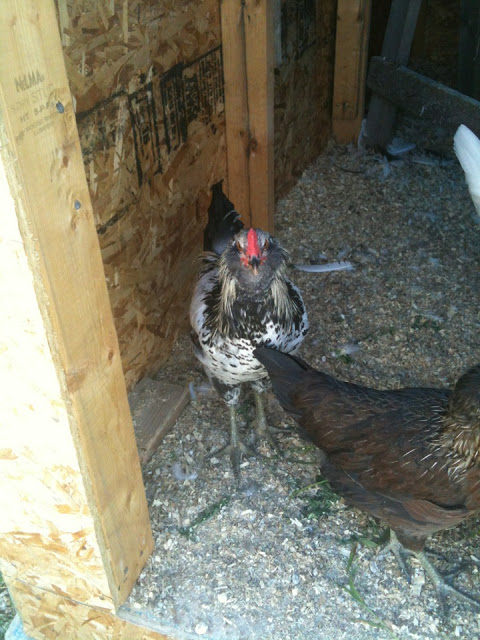 Yeah, so that chicken we thought was a rooster – but were not entirely sure? Definitely a rooster. We learned that at about 5am last Wednesday. I guess I thought that it would take longer for it to be an issue. I mean, the guy is just 12 weeks old. Doesn't that seem kind of young to start strutting around and crowing like a crazy rooster?
And actually, the crowing doesn't really bother me. I am up before it starts, and for some reason he didn't start crowing until 6:30am this weekend…well after a neighbor's dog had already woken everyone up in the neighborhood 🙂 I spoke to my neighbors and they haven't heard him, and don't really care if he starts crowing, so that is nice. I am hoping some of the people further away from us (because his crow DEFINITELY carries) won't call the city and report us. Having someone come here for "code violations" would never be a good thing.
The problem that I am having with the rooster right now? Well, he is trying to be a rooster, in all his rooster ways. He is scaring the crap out of the ladies. When he starts stalking them, strutting his stuff, they start screaming and running all around the chicken run to get away from the guy. They have tried several times to run through the chicken wire…and now I know why they keep flying over the fence…to get away from him.
Yesterday we separated the rooster from the ladies. He was outside the fence, they were inside. For some reason I thought that would be the best thing to do. Of course he stayed right at the fence the whole day watching the girls longingly. And I felt bad for him.
So onto the dilemma. What should we do with this poor guy? I have called//facebooked just about everyone I know to see if they know anyone looking for a rooster. But, let's be honest, no one really wants a rooster. Even such a pretty guy as this one. He is too small to butcher I think. I'm not sure it would be worth the cost and stress of bringing him to someone. I wasn't prepared to do it myself, although maybe I should have been. I'm not even sure I can catch him though…the hens…yes, they practically jump up into Emma's arms.
We have thought about driving him out of the city to the little town next door and looking for a place that has chickens…then just hoping for the best. We have also thought about just leaving him out of the coop and letting whatever happens, happen. I know – that is definitely not the nicest way. But, there it is.
I guess I thought it would be easier. When we have to get new chicks in a couple years, I knew we would butcher and fill our freezer with the ladies. Now, of course, I feel bad for the rooster. He has had a short life, and he seemed so sad to not be with the other chickens yesterday. He was one of the four easter eggers we got, the other three seem lost, and I just all around feel bad. Perhaps this is why I got egg laying chickens instead of meat birds 🙂
So what should I do? Do I pay to have him butchered for no meat? Do I let him go out in the wild (hey, we have wild in Maine ;-)), knowing nature will not be kind? Do I drop him off at a farm, and speed away before anyone sees us? These are the questions I am asking myself today!
*I figure I should clarify that I wouldn't actually drop off the rooster at an unsuspecting farm 🙂 Don't worry, we will most likely donate him to someone for their freezer, not sure I want him in ours 🙂
I'm linking up at the Barn Hop