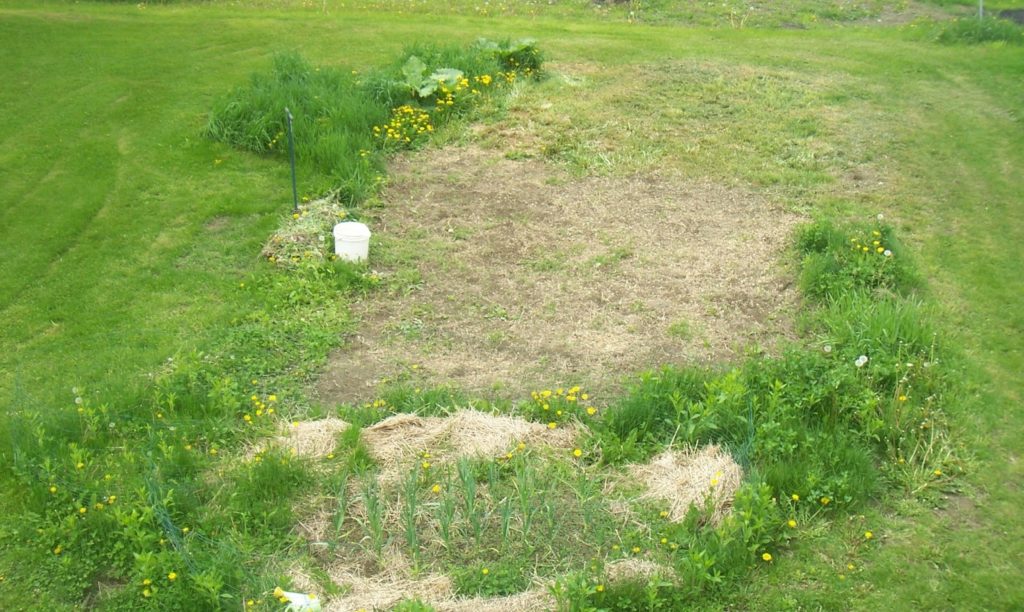 I have to say that the garden is looking 100 times better than it was last week. I wasn't sure we would get all the weeds up! But, with the next week looking like rain every day, and then the following week is when I typically get all of my plants in the ground, I knew that I had to get it done!
The rhubarb still has a ton of weeds that need to be pulled, but I did get to pick some of the first stalks of rhubarb this past week. And I will be making rhubarb custard pie this week! Perfect rainy day activity if you ask me 🙂
The mound of weeds, next the rhubarb in the back, is actually the remaining compost from last fall. I need to pick the weeds out from around there (or more likely have Matt use the weed whacker). Then I plan to put pumpkins in that spot. The love compost, and I am crossing my fingers that it will work! Plus, being off to the side, when they start crawling I think it will be OK!
My garlic is still doing extremely well. I planted in a different location than last year. Last year something seemed to be eating the plant from underground. The only thing I could think of was maybe moles, but I couldn't find anything about moles eating garlic. Regardless of what it was, it ruined half of my garlic plants. This year I have 44 plants, and it is really exciting to see something that I planted last fall, go through an extremely cold and snowy winter, and then come up in the spring. Very cool to see nature at work!
You will notice that I have no peas planted, no lettuce or spinach planted. Not even radishes. I will probably try and plant all of those things when I put everything else in the ground, not sure how they will do, but I can always hope!
Any good rhubarb recipes you can share? I have a ton, and my mom has 3 times as much, to preserve.


Linking up with Clever Chicks and the Homestead Barn Hop