This post is written in partnership with U.S. Cellular. All opinions are my own.


Now that we are all firmly back to school, thinking about
ways to use technology to simplify is on my mind. This year we have two kids who are at two
different levels, as well as a very active almost 3 year old. Technology is definitely coming into play
during our schooling. And honestly, it
is taking part in schooling from pre-school all the way to college.
One of the big changes that we have had this year is to
listen to a lot more audio books. Since
we spend a lot of our time reading together as part of the kids' education, I
realized that me spending all of that time reading is not always possible. Letting the kids have an audiobook to listen
to while they work on chores or art, or even while having their rest time, it
helps. Having the audiobooks is also a
plus when we are out and about trying to get to different lessons, or when we
are patiently waiting for Emma to finish her saxophone lesson sitting in the
car. U.S. Cellular has great coverage
that allows me to download new books or listen to music whenever we are out and
about – which seems to be often.
Emma and Jack are also downloading a lot more e-books for
their free reading this year. Having the
options available at our fingertips is wonderful. It is also a great option for college
students. They are able to download
everything from textbooks to their favorite novels. Reading on my iPhone is something I do myself
every single day. I always have a book
at my fingertips, and I prefer that to getting lost in the world of social
media.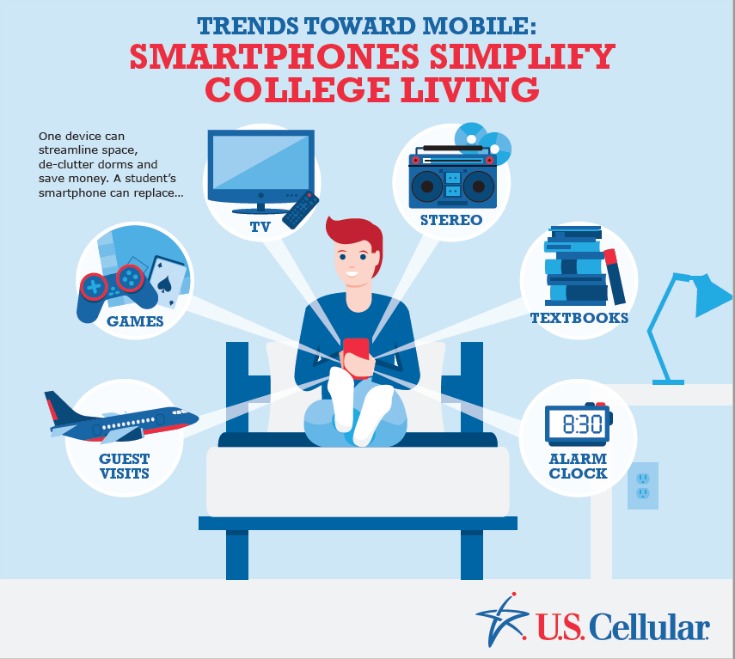 Another area that technology has come a long way is with the
ability to listen to music anywhere.
Having Spotify and Apple Music let us listen to music whenever we want –
plus, have you seen some of the amazing lists on Spotify?! Also perfect for the student who loves to
listen to music while studying, or when you need that down time.
The change in the realm of entertainment – TV and movies –
is huge when it comes to technology. I
remember several years ago, before I had my first iPhone (a 3GS) that I couldn't
imagine watching a show on a screen so small.
That was also the year that my 1 year old decided she no longer wanted
to sleep, and I got sucked into binge watching The Vampire Diaries on Netflix…on my iPhone…so
TV on my phone has been a constant since then.
It is also a way for my kids to have some down time in the
afternoon, either by watching an educational show, or sitting down to watch a
documentary, there are so many options available. I remember being so excited to have a TV in
my college dorm room, but they aren't really necessary now because kids tend to
use their iPhones and iPads to watch anything they could want to.
According
to recent U.S. Cellular survey, 59 percent of smartphone users watch video
using their devices; up from 48 percent just three years ago.
1
Everyday tasks are easy to manage as well. Using the notes app on my iPhone 7, I
constantly make lists throughout the day.
Lists of things I need at the store, things I need to work on with my kids,
even as an alarm in the morning.
Students are able to use their mobile device to replace so
many items, it definitely lightens the load.
Everything from alarm clocks, to books, to large music collections, can
now be stored right on their device, cutting down on clutter and having
everything they need at the touch of the screen.
What apps
do you use to simplify and manage your everyday?
¹
Between Nov. 10-17, 2016, a total of 701 online interviews were conducted among
a nationally representative sample by Consumer Insights, in partnership with
Maritz CX.