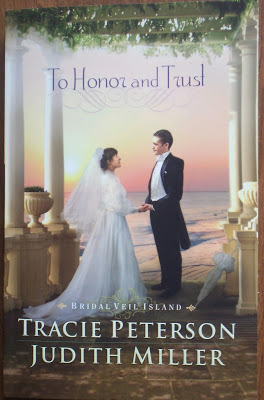 The year is 1913. Callie has gone to Bridal Veil Island resort with the Bridgeport family. They employ her as a governess, although that line seems to be blurred most of the time. She is constantly looking for God's guidance as to whether she should be there with the family, or if it is time to move on. But, maybe she is avoiding God's calling because she isn't quite ready for the commitment that comes with being a missionary.
She meets Wesley Townsend, who is on vacation with his wealthy family, but is trying to escape his already laid out in front of him life. They are drawn together, even though there are secrets on both sides.
To Honor and Trust is the third book in the Bridal Veil Island Series. It was a really interesting read. I knew that it was a historical romance novel, but there were so many mysteries involved, which I loved. The twists and turns were numerous. There seems to be something for everyone. It took me a little bit to get into the book, but once I was a few chapters in, I was hooked!
I would love to offer up a copy of this book for one of my readers! If you like historical fiction/mystery, you will love this book! Just leave a comment below letting me know you are interested!
I was sent a copy of this book by Bethany House in return for an honest review. The opinions are my own.