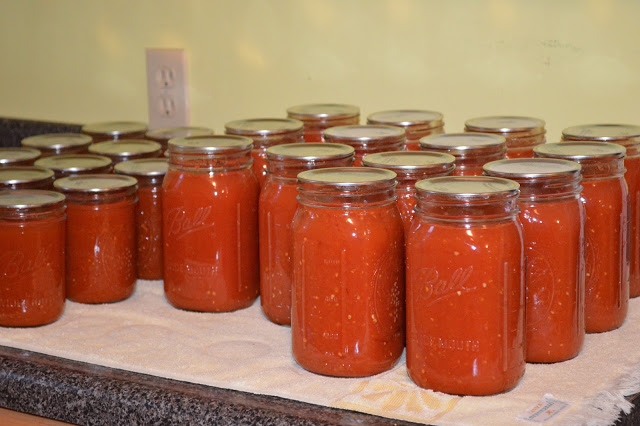 Every year, for the past four years, I have purchased 100 pounds of tomatoes from a local market in town for canning. I always hope to grow enough tomatoes in my own garden for my canning, but I haven't quite perfected that yet. Instead, my tomatoes typically go to salads and eating fresh from the garden. The tomatoes I buy from the market go to all of my canning needs. Last year I was able to make salsa all from vegetables in my garden, but not this year!
In fact, I haven't canned any salsa this year. I'm not sure if I will get to it or not. I love my home canned salsa, but it is an awful lot of work for very few jars of salsa. Instead, I decided to take my 100 pounds of tomatoes and make crushed tomatoes and tomato sauce. It was definitely a lot easier to do this.
I spent a good portion of last Saturday cutting up tomatoes and throwing them into a pot. And then once they cooked in their own juices for a bit, I used my stick blender to blend them up into crushed tomatoes. I canned 14 quarts of crushed tomatoes. And then I did the same thing for tomato sauce, although I let the tomato sauce simmer for quite a while to reduce and make a thicker sauce. I ended up with 13 pints of thick tomato sauce.
I don't season my tomatoes at all. I find this makes it a lot easier for me later on. I am able to grab a jar of tomato sauce and use it for pizza sauce, by adding the appropriate herbs, or I can make pasta sauce, with different herbs. For the crushed tomatoes I can make soup, chili, use it to cook chicken. I just like the options and it is less labeling!
This day it took me from about 10am to 11pm to prepare and then can all of these jars, which unfortunately doesn't look like a lot in the picture, but I am happy with the amounts that I ended up with. I don't know if this will satisfy all of our tomato needs for the winter, but I am hopeful! It might be time to up the amount of tomatoes I buy from the market…and perhaps having two days to can all of these tomatoes would be appropriate going forward! It was an incredibly long day of chopping and hot as anything! But definitely worth it.
My goal every year is to put up all the tomato products we may use, and every year I fall short. Do you have something that you work to preserve more than anything else? How does that stack up year after year?
Linking up at the Barn Hop, Clever Chicks