I am a member of the U.S. Cellular #BetterMoments Blogger Brigade. This is a sponsored post on behalf of U.S. Cellular. As always, the opinions are all my own!
I think we can all agree that most people own some sort of
wireless device these days! I know that
my iPhone is pretty much glued to me all the time. And I think that most of us know someone who loves technology – or several someones. I know that in my own family, my brother, mom, husband, and I all love technology. With the holidays coming (already here?!),
what better way to celebrate that giving the techie in your life some amazing tech gifts?
I think that this Christmas will probably be the first year
a lot of kids are getting their own wireless devices. If that is the case in your family, don't
forget to grab the U.S. Cellular Parent-Child Agreement to talk to your kids about appropriate
wireless usage, and setting up boundaries.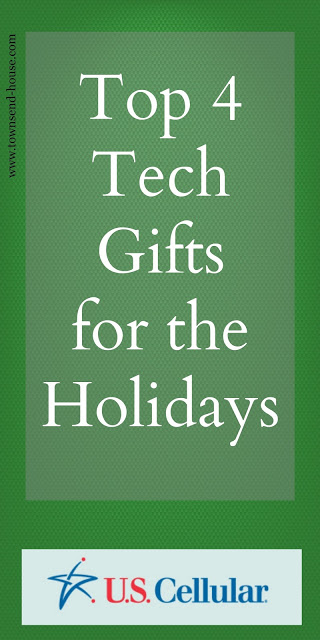 Now, here are my Top Four Wireless Accessories for the
Holiday Season!
First up is the OtterBox Commuter Case. Now, this is probably the most important one
for me, as a mom. My phone gets grabbed,
dropped, and even thrown sometimes, but these cases are AMAZING! Retail price $39.99.
With
defense against drops, dust and scratches, along with two layers of protection,
the OtterBox Commuter Case is sleek enough to fit in your pocket while also
protecting against the elements.
Next, the Belkin WeMo Insight Switch. This one looks awesome! Connect all of your home electronics to your
Wi-Fi network. It then allows you to
turn them off and on from anywhere on your phone or tablet. It can put your electronics on a schedule,
and even track energy usage and send that information back to your phone or
tablet. It is perfect for someone
looking to simplify their lives when it comes to their home technology. Retail Price $59.99
The Parrot Rolling Spider Drone – it seems like drones are all
the rage right now. For the fun-loving
adult (or kid!) on your list, this is an ultra-compact drone that is controlled
by your smartphone. It flies indoors and
outdoors with speed and stability. You
can use it to take pictures by just pushing the button on the accompanying
app. It also has detachable wheels that
make it easy to go from floor to ceiling – this is very cool! Retail Price $99.99
The last gadget is the Samsung Gear S2. This little device really does it all. It is perfect for the health conscious person
on your list, tracking all of your daily activities, counts your steps, measure
your pulse as well as your water vs. caffeine intake. It can also take calls and texts, even buy a
latte if you want! The Gear S2 makes it
easy to read an e-mail, check out your favorite apps, or listen to music, right
from your wrist! Retail Price $349.99.
I am incredibly excited about the holidays this year! So much so that I have been talking about it
all the time recently here at Townsend House!
I would love to hear
what you are hoping to get for Christmas, as well as what you are planning on
giving to the loved ones in your life?