This post is brought to you by #BetterMoments.
I can't believe that summer is right around the corner! It doesn't seem possible with the how cold
this spring has been, but I know it is coming.
I am so excited to be able to get outside in the garden, and enjoy
everything a New England summer has to offer.
It really is the best place to be in the summer months! Here are the top five apps to help plan your
summer fun.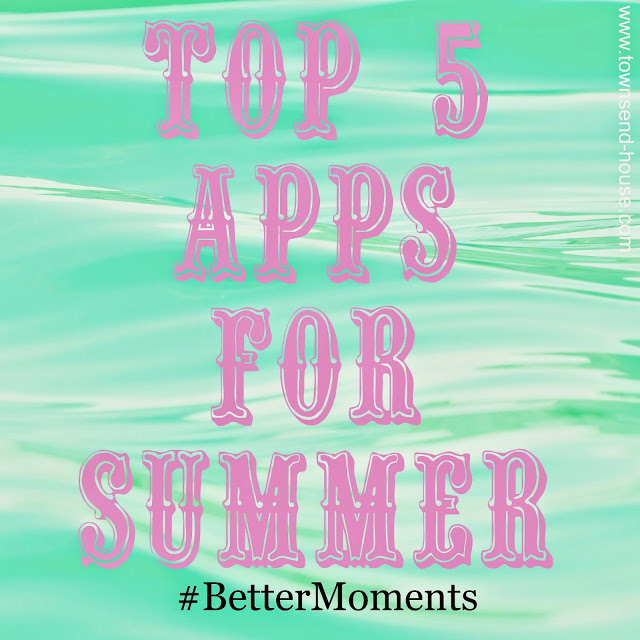 Hipmunk is a great tool to find the best hotel and flight
rates out there. It searches hundreds of
travel sites, making sure that you are able to find the best rates and the most
convenient schedule for you.
Google Calendar is a great way to keep everyone's schedules
organized. My husband loves to have
everything digital. It is great to have
the push notifications and know exactly where everyone needs to be and when. The ability to sync calendars across multiple
devices is a huge help when trying to get to all the activities summer seems to
bring.
The Yahoo Weather App offers tons of detailed information on
everything weather. It has information
on wind and precipitation as well as sunrise and sunset times – which are
perfect for those days at the beach.
Seeing the sunrise at the beach is probably one of my favorite things. Don't get caught off-guard by a thunderstorm
coming through!
It seems like I am constantly documenting my days with the
kids (and my garden). Snapseed offers
pro-level photo editing capabilities in a user-friendly interface. It is great for perfecting photos that you
take with your iPhone 6. You can also
easily share the photos by e-mail and on Facebook and Twitter.
Summer is a wonderful time for sports. People are able to keep track of their
favorite sports teams with The Score app.
It provides news and scores from a bunch of leagues and events. You can also get live updates so you are
never out of the loop.
Having access to these apps on your iPhone 6 or other mobile
device is great, but not if you don't have the signal to use them. I love that US Cellular has such a high
quality 4G LTE network, and that they have national coverage. No matter where I am this summer, I will be
able to keep track of what is going on!
If you have kids that are going to be out and about on their
own, don't forget to download the Parent-Child Wireless Agreement so you can
all be on the same page with what is appropriate cell phone usage.
I was compensated for this post as a member of the US Cellular Better Moments Brigade. All opinions are my own.