This post is in partnership with U.S. Cellular. All opinions are my own.
Back to
school has changed a lot since I was in school. Now, a lot of kids
are getting their first cell phone at the beginning of the school
year. And with that first cell phone – or any type of device – comes
a lot of responsibility for the child. U.S. Cellular makes it easy
to start the conversation with their Parent-Child Agreement.
When we
give our children this type of technology we want to make sure that there are
rules in place. Making sure that those rules are clearly laid out
and agreed upon is important. Technology is most definitely a
privilege and should be treated that way by everyone involved.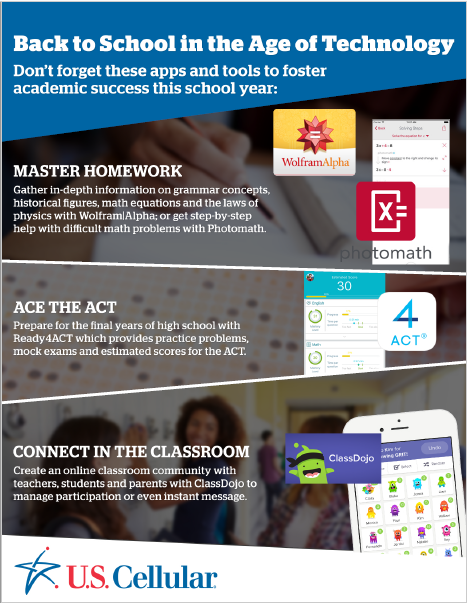 A recent U.S. Cellular
survey found that 58% of parents have children with a cell phone, and the
average age children are getting their own cell phone is 11
.

1
The
opportunity to use technology to do research in the classroom, as well as
collaborate with other students on projects, is an amazing advance that I wish
I had had growing up. Allowing our children to help the process of
education evolve with the use of technology is important for their future, and
for ours as well.
According to a recent
report by Common Sense Media, 94% of parents agreed that technology positively
supports their children with schoolwork and education
.

2
Giving
your child the latest technology, can be an amazing help when it comes to
learning for the new year. I know as a parent I want to give my
children all the tools they need to be successful, and technology is a bit part
of that equation.
These are some amazing apps
available to help your kids' foster academic success for this coming school
year.
Wolfram|Alpha
($2.99) – a useful app for homework of any kind. With U.S.
Cellular's fast, high-quality network and nationwide coverage, it can be easily
accessed from anywhere, anytime. Use it to gather in-depth
information on grammar concepts, historical figures, and math equations.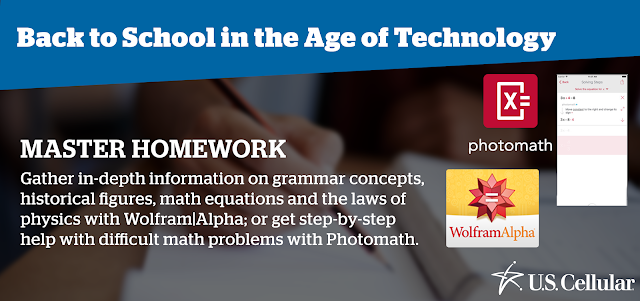 Photomath
– a free camera calculator that is designed to virtually show your student the
step-by-step process of working out difficult math problems. This
will be amazingly helpful for my kids who are not as excited about showing
their work as I am. The app will scan a picture of the question,
detail each step to solve the equation and then provide the answer so the
student can check their work.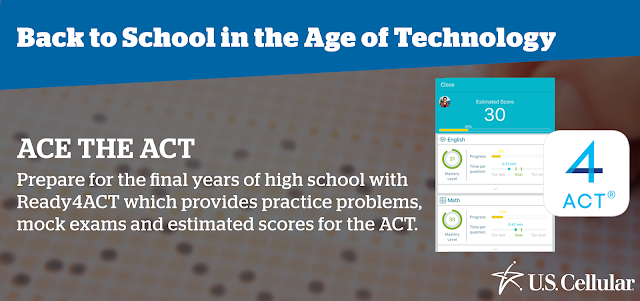 Ready4ACT
– if you have a student looking for test prep, this app is great. It
is a study app that prepares students in their final years of high school for
the ACT test. It has practice problems and mock exams that you can
do right on your iPhone 7.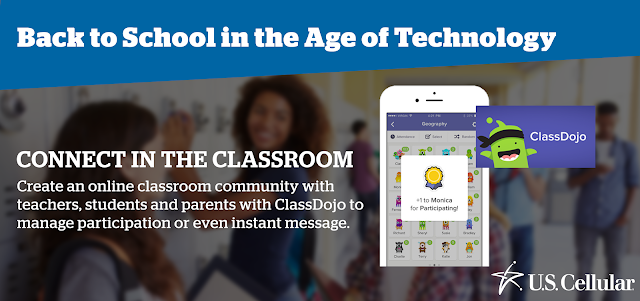 And
finally one for the teachers – ClassDojo – This is a classroom manager that is
used in 90% of K-8 classrooms in the United States. It helps to connect
students, teachers, and parents in a classroom community.

3

It
manages participation and rewards and even allows teachers to share community
moments with the parents.
Do you have a favorite app that your child uses to foster academic
success?
¹ Between Nov. 10-17, 2016, a total of 701 online
interviews were conducted among a nationally representative sample by Consumer
Insights, in partnership with Maritz CX.
2
The
Common Sense Media Report
is based on a nationally representative
survey of 1,786 parents of children age 8 to 18 living in the United States
that was conducted from July 8, 2016, to July 25, 2016 by GfK.