This is a sponsored post by

U.S. Cellular

. I was compensated as a member of the U.S. Cellular Ambassador program. All opinions, as always, are my own.
Are
you planning a road trip this summer? I
love road trips, but my kids are not always as thrilled with the long
drives. As they have gotten older, we
have started to allow them to use devices in the car to make the trip a little
bit smoother now that they no longer automatically fall asleep as soon as we
leave the driveway. I really encourage
them to use fun apps and games that also give them a learning experience.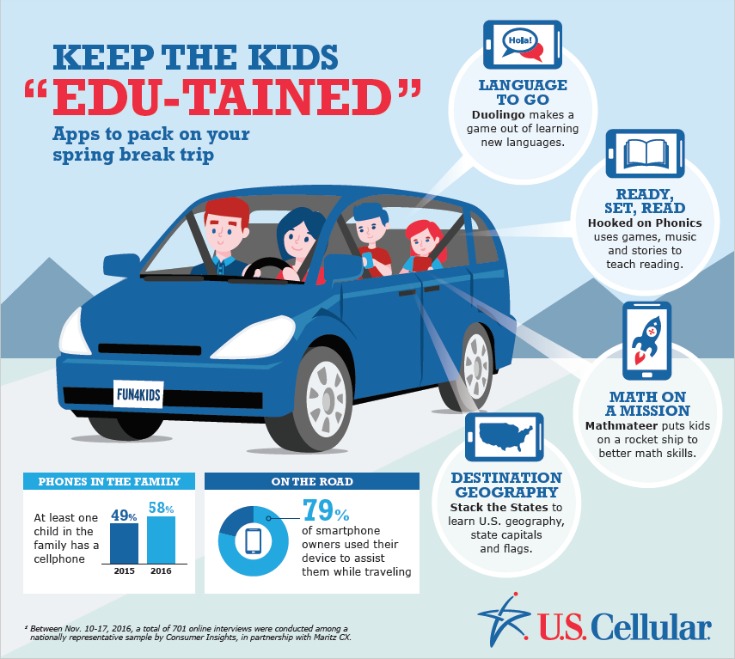 I am pleased to see that there are so many fun and
educational apps out there available now!
We use many of these in our daily homeschool routine, they get screen
time, they are still learning, and I get a bit of a break in the day – win-win-win!
I love that there are so many options when it comes to kids
and technology these days. You don't
have to choose between entertainment and education, because you can easily have
both!
Mobile
technology is increasingly a part of everyday family life, and that is why we
want to encourage parents to find ways to make screen time educational.
According to a recent survey, 58% of respondents had at least
one child with a cellphone – up from 49% in 2015. The same survey showed that 79% of adults had
used their smartphone to assist them while traveling.
I love that U.S. Cellular is such a reliable
network. It allows me to use my iPhone
for directions and to find the nearest rest stop, and also allows my kids to
have some fun apps to use when they get a little antsy on the drive.
Duolingo
– a fun
and effective way to learn a second language.
Not just for kids! My whole
family loves this app!
Hooked on Phonics
– always a wonderful way to get more practice
for younger kids on learning how to read.
Mathmateer
–
This app is available to iPhone and iPad users and will keep grade schoolers
busy with 56 fun math missions.
Stack the States
– I recently heard about this app in one of my
Facebook groups. We are studying U.S.
History right now, and this is an amazing way to teach kids about U.S.
Geography, state capitals, and flags.
What
are your tried and true ways to help your road trip go a bit smoother?