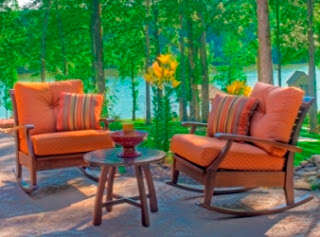 Now that summer is here, people want to spend more time outside. Whether it is a patio or a garden, a lot of them have some outdoor space that can become just as inviting and comfortable as the inside of their homes if it is properly furnished. But just like fashion, furniture comes with its own trends that come and go as the years go by. If you want your outdoors to look modern and stylish, then we can help by giving you the top trends for outdoor furniture of the year.
1. Outdoor Rugs
This is one of the biggest trends of the year and it can make any outdoor living area look more stylish. Just like an indoor rug would, an outdoor one can pull a space together and create a sense of an overall theme for your patio. It will make you feel like you are indoors while you are enjoying all the benefits of being outdoors such as the breeze and the sun. Moreover, rugs come in a wide variety of different shapes, styles and sizes so you will find it easy to get one that you will not only like, but it will also match the décor theme that you were going for.
2. Stackable Chairs
Practicality is not a major concern when it comes to trends, but it is well-reflected here with stackable chairs. Like their name suggests, you can easily put one on top of the other which is great when you need the extra space. They also usually come in a set with a table which offers a lot of versatility when it comes to placing the sets outdoors and then storing them when they are not in use.
3. Deep Seating Furniture
If you want to enjoy the time you spend outside, it is important that you are comfortable. There are few furnishings that are cozier than deep seating furniture which is also very hot at the moment. The best part is that you can find some to fit any space you want to furnish. There are sofas, upholstered chairs, ottomans, chaise lounges and loveseats to choose from. They are also made from a range of different materials that are supposed to be durable and weather-resistant such as wood, wrought iron, wicker and cast aluminum. However, in order to ensure that they (and you) stay protected outside, a nice pair of offset patio umbrellas is also recommended.
4. Motion Seating
Apparently, current trends dictate that you are not supposed to stand still when you are outside. That is why you should furnish your outdoors with motion seating such as swivel chairs, rockers and gliders that provide you with a nice, relaxing motion (whether you want it or not).
As you can see, there are plenty of choices to make when it comes to furnishing your outdoor space. If you want to browse through a varied collection and see which pieces you like best, head on over to http://www.thelashop.com and pick out your favorites.
This is a sponsored post for the LA SHOP