Several years ago I was looking for something fun and
exciting to do for Advent with my kids.
We started the Elf on the Shelf tradition – although our Elf is not mischievous
at all, she just hides about the house, and my kids love to look for her.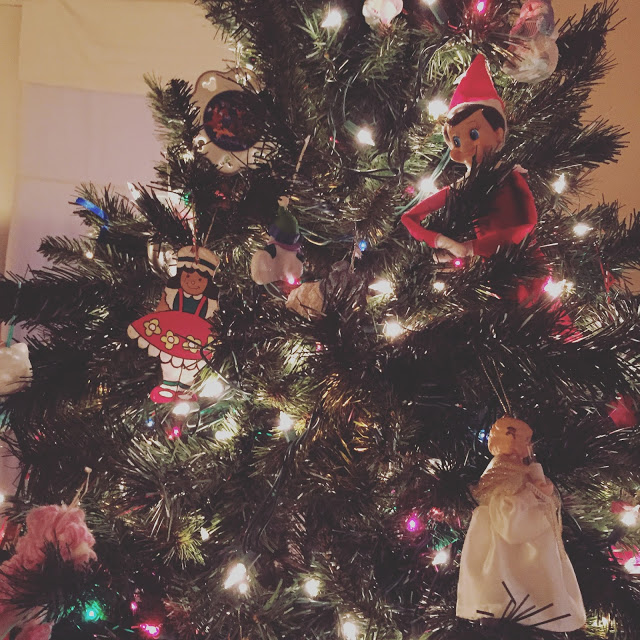 They will write her little notes; they will draw her
pictures, talk to her, and explain what has been going on in their lives. It is actually quite precious to watch.
Our elf was named Tasha, during a Backyardigans phase my
oldest was going through. She named her
Tasha, and it stuck. Now the kids get so
excited on November 30th every year, knowing that she will arrive on
December 1st.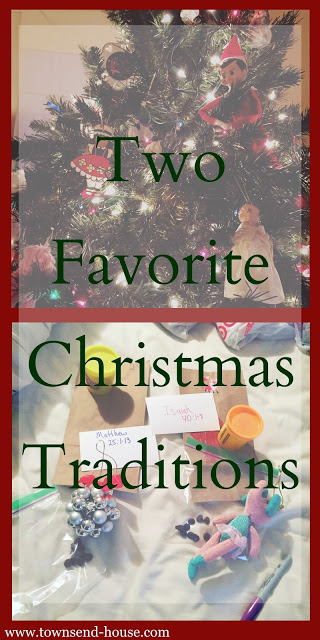 I love this tradition because the kids wake up in such a
good mood every morning. Every morning
they run downstairs to see the new location that she is hiding. Emma and Jack wake up at different times, and
typically Emma will find Tasha first, and then Jack will have an opportunity to
look for her. It was a little harder to
keep Emma from spoiling it a couple years ago, but now she is old enough to
know that Jack wants the chance to find her on his own.
Our second tradition that also starts on December 1st
is our Advent Bag tradition.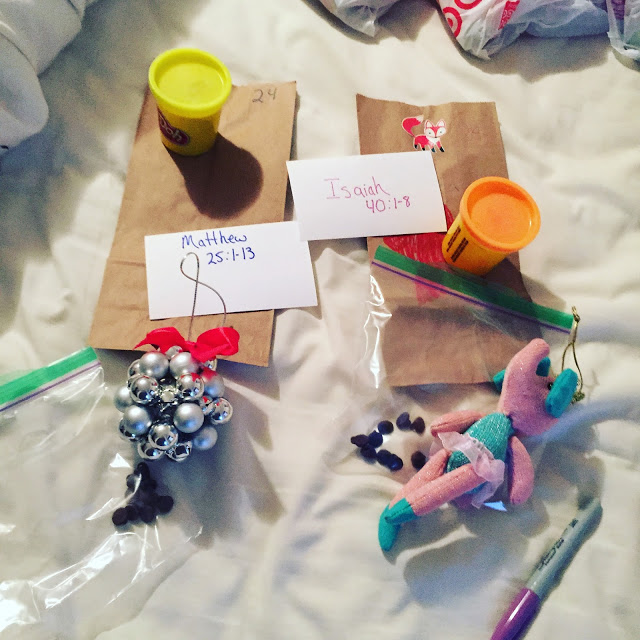 I'm sure you remember growing up and having those little
Advent calendars with the doors and the little chocolate? Well, my brother and I loved those growing
up. I knew that I wanted to do something
for my own kids. But, I wanted something
a little different.
Then the idea of Advent Bags came to me.
What it is – there are 24 bags for each child. In each bag there is a little treat, an
activity or toy or craft, and the scripture reading for the day.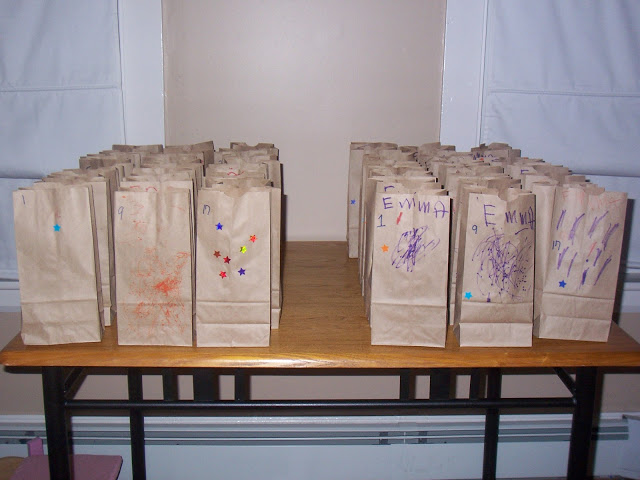 our first year of the Advent Bag tradition!
The first year my kids did this, they were incredibly
excited. And so was I! I loved to watch their faces every morning
when they ran down the stairs to see their bag.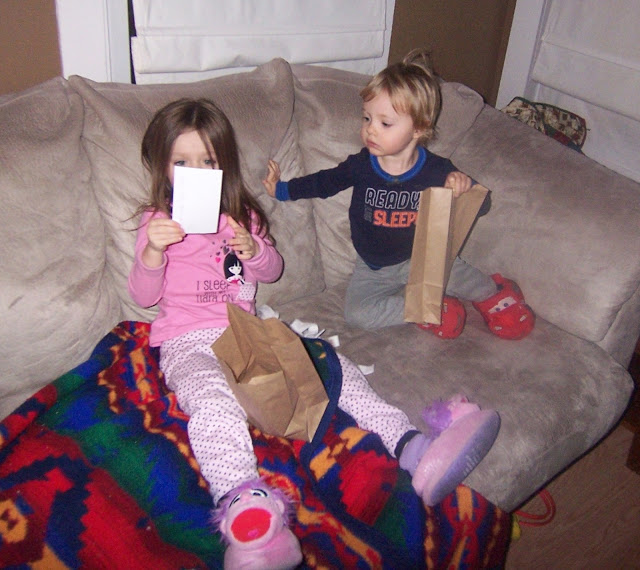 Now, I tend to hit up the craft store and the Target Dollar
Spot to get these little crafts and gifts to give to the kids. It is something that I have so much fun
putting together. I obviously don't have
a ton of money to spend on this, but having a fun activity or craft or Matchbox
car or jar of Play-Doh is something that works very well in my family.
It gives the kids something to do first thing in the
morning, it also pretty much guarantees that they come down in a good mood – I know
it's crazy to think that children would wake up in a bad mood, but it happens
here! It also helps my mood, especially
when the kids are up earlier than I hope.
Why did I start these traditions? Well, it is because I think back so fondly on
my own childhood Christmas traditions, and I want that for my kids as well.
I love how wonderful Christmas is. Yes, there can be stress, there can be
sadness; there can be craziness. But,
overall, I believe that Christmas is a season to be thankful, to look at our
families and be thankful. To give to
others, and to be as positive a season as you can make it.
What is your favorite
Christmas tradition? Have you continued
traditions from your childhood?