I received a copy of this book free from the publisher in order to facilitate my review. All opinions are my own.
This year has definitely been the year of "organize my life." I have been working so hard to de-clutter our home, put new cleaning routines into practice, overhaul the way I budget, and
figure out the best way that I can plan my days without feeling overwhelmed. Goodness, what a difficult task that is to
undertake!
When I saw Ruth's new book, Unstuffed, I knew that I needed to read it. A book about getting rid of the excess from
all aspects of your life seemed right up my alley, and it did not disappoint.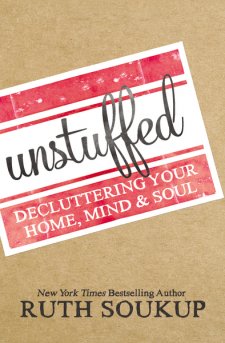 Unstuffed is full of great advice as to what we need to do
in order to get rid of the clutter that fills our homes, our schedules, and our
souls. But, it isn't only advice. She takes us through her own journey of
getting rid of the clutter.
It is always interesting to me to see the transformations
that people can make over the years. I
love to see the changes, and so this type of book is fun for me to read. The journey that person goes on – I think
that is why I enjoy memoirs so much, being able to relate to a certain path, or
know that I am not alone in wanting to change certain aspects of my life.
Unstuffed takes us on a journey to get rid of the excess in our lives and to more
fully appreciate our lives without the stress of all the stuff we seem to cling
to.
I think the most interesting fact that I read in the book
was about the amount of information that we process daily and how overwhelming
that is. The sheer amount of information
that is created now as opposed to years ago is staggering. And we are constantly connected to it with
the internet, and cell phones.
If you are looking for a book that encourages you on your
own path to simplify without becoming a minimalist, this is definitely a great
book to read. It is full of practical
advice, and great stories. I felt myself
nodding my head through most of the book.
Are you trying to
organize your life and home this year?
Any tips to share?